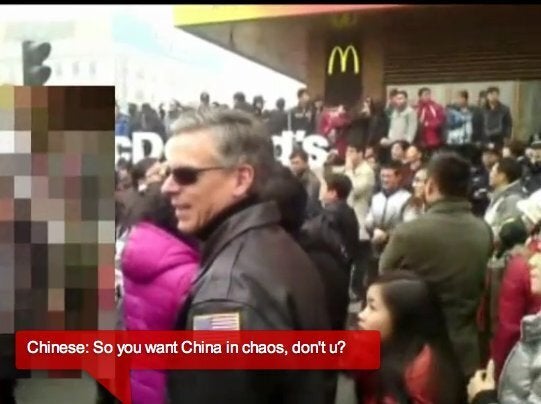 Rumored presidential hopeful Jon Huntsman is ruffling more than a few feathers stateside after video of the U.S. Ambassador to China attending a Jasmine Revolution protest in Beijing surfaced.
In the video, the Republican and former governor of Utah -- who is resigning from his post this spring amidst speculation that he is revving up for a 2012 presidential run -- sports sunglasses and a leather jacket with an American flag badge on the shoulder. Huntsman, who is fluent in Mandarin, is seen being approached by one demonstrator outside of a McDonald's restaurant, and according to a translation provided by the Shanghaiist, states: "I'm just here to look around."
According to the Wall Street Journal, Huntsman's appearance at last Sunday's demonstration is particularly controversial because it is rare for an ambassador to attend an anti-government protest in China. The U.S. Embassy has since moved to extinguish theories that the ambassador's appearance implied that United States is tacitly supporting the Jasmine Revolution movement.
Officials have since claimed Huntsman's appearance was purely coincidental. "The Huntsmans were on a family outing and happened to pass by [popular shopping street] Wangfujing," Richard Buangan, a U.S. embassy spokesman, told the Wall Street Journal, noting the ambassador was on his way to a museum. "They realized what was going on and immediately left."
Since the video appeared, China's Internet censors have reportedly blocked searches for Huntsman's Chinese name.
Watch video of Huntman's appearance at the protest here:
Popular in the Community