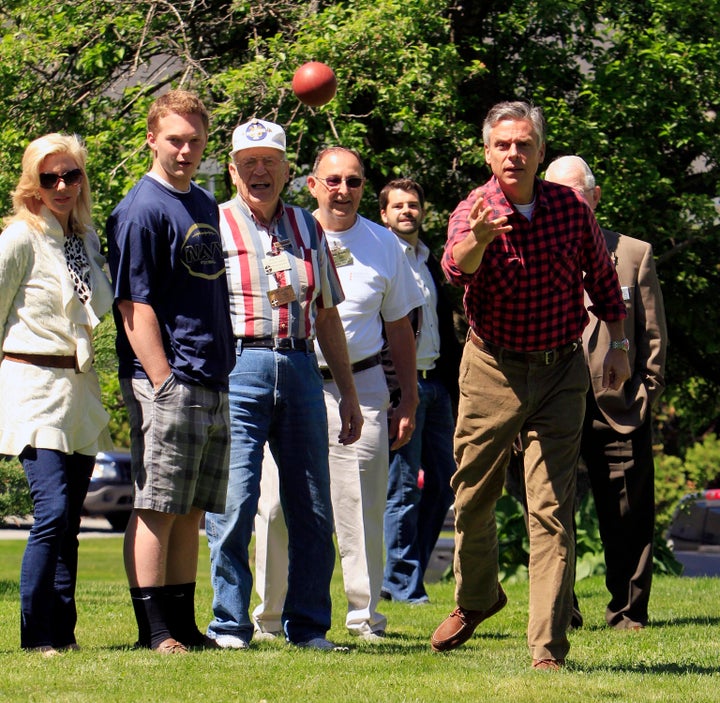 When Students for Daniels found out that the Indiana governor was not going to run for the GOP presidential nomination, they turned their attention to deciding which former governor they would endorse as their second choice: Massachusetts' Mitt Romney, Minnesota's Tim Pawlenty or Utah's Jon Huntsman.
Romney eliminated himself by enthusiastically backing federal subsidies for ethanol production, said Max Eden, the 22-year-old Yale University graduate who helped co-found of the now 68-chapter-strong college political group.
When it came down to choosing between Pawlenty and Huntsman, they said it was the latter's focus on the national debt that helped them decide in his favor. That and the fact that most of the chapter chairs they contacted liked Huntsman the most, said 21-year-old Yale undergrad Michael Knowles, the other founder of Students for Daniels.
Ultimately, 38 of the 68 chapters united behind Huntsman, Knowles said. They couldn't reach others, and some wanted to wait to decide whom they would favor.
The $14 trillion national debt, Knowles said in a phone interview, is "the issue that's really going to affect our generation." And Huntsman is talking about the debt more frequently and directly, he said.
"[Pawlenty] seems like a fine candidate," Knowles said. "But in terms of the ways in which he speaks about the debt, I think Governor Huntsman is, all in all, a better candidate."
"When Governor Huntsman speaks, our generation's issue is the first word out of his mouth. When Governor Pawlenty speaks, it's the fifth," he said. "Gov Pawlenty's campaign just seems less focused … their whole campaign has been a little nebulous."
Eden told The Huffington Post that he voted for President Obama in 2008, but has become disillusioned by the president's approach to the debate over how to reduce the debt.
"I got swept up with it like just about every one of my friends," Eden said in an email. "But over last summer I realized he just wasn't serious about tackling the debt and I decided to try to find a candidate who would be."
Knowles said Obama "has not put any serious focus" on a response to the debt.
Both of the former Daniels' backers were "shocked" by the president's response to the Republican budget proposed by Rep. Paul Ryan (R-Wis.) and passed by the GOP-controlled House, Knowles said.
"We've seen a lot of demagoguery," he added. "President Obama and the Democrats are choosing political opportunism over doing their jobs."
Although aides from both Romney and Pawlenty reached out, Huntsman's camp was more aggressive in seeking their support, Knowles said.
Huntsman is attempting to reach out to young voters. He'll speak to the College Republicans National Committee meeting in Washington later this month.
The endorsement is another notch on Huntsman's belt. The not-yet-declared candidate has quietly been gaining momentum even though much of the focus has been on Pawlenty's and Romney's official announcements and the continued flirtation with a run by former Alaska Gov. Sarah Palin.
Huntsman made his second trip to New Hampshire this past weekend, after a successful appearance at a meeting in Washington Friday organized by Christian conservatives. In the Granite State, Huntsman said he will not compete in Iowa and instead plans to focus on New Hampshire, South Carolina and Florida, which come right after the Hawkeye State at the beginning of the primary voting process in early 2012.
Knowles and Eden had managed to gain some notoriety for their effort to draft Daniels into running for president. When the Republican Indiana governor and his wife spoke at a highly publicized dinner last month –- a week before he ultimately decided against giving it a go -– Knowles and Eden and others in their group met with Daniels before the banquet and then had drinks with him afterward.
They have also formed a political action committee, Students for Solvency.

Support HuffPost
The Stakes Have Never Been Higher
Popular in the Community