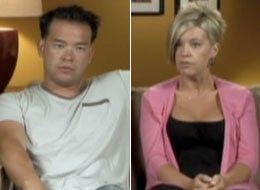 ***SCROLL FOR VIDEO OF JON AND KATE CONFIRMING BREAK UP, CLICK HERE FOR KATE'S STATEMENT SLAMMING JON ***
By FRAZIER MOORE, AP Television Writer
NEW YORK (AP) - Celebrity parents Jon and Kate Gosselin say they plan to divorce.
In a statement, Jon Gosselin says he and wife Kate filed for divorce Monday afternoon.
The co-stars of "Jon & Kate Plus 8," who are parents of sextuplets and twins, spoke of their decision to separate during Monday's episode of the TLC reality series.
The network had promised a major on-air decision from the couple, whose increasingly troubled 10-year marriage has dominated the series in recent weeks as well as fueling a firestorm of tabloid coverage.
The Gosselins' announcement raises new questions about the future of "Jon & Kate," which, now in its fifth season, is TLC's most popular series.
But both parents say the show will continue, with their segments of the show filmed separately.
Support HuffPost
The Stakes Have Never Been Higher
Popular in the Community