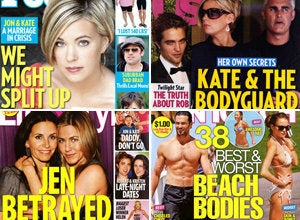 Jon & Kate Gosselin's marriage crisis is the topic dominating this week's celebrity weeklies. People, Us Weekly and Star each have their own take on what's happening inside this couple's marriage.
In Touch offers readers a complete escape with its Best & Worst Beach Bodies while OK! Magazine serves up its Biggest Loser Diet cover just in time to lose weight for summer. Meanwhile, Life & Style features poor Jen Aniston getting betrayed by best friend Courteney Cox.
Let's take a closer look at each cover.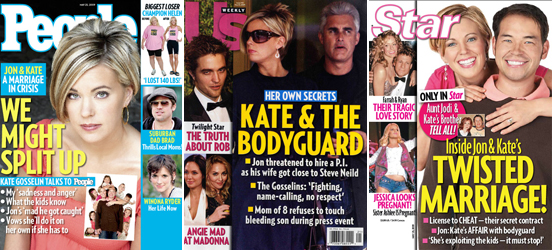 People Magazine scores big this week with an exclusive interview with Kate Gosselin. As a trusted source in the celebrity weekly category, I expect this cover to do quite well. The magazine has her admitting that they might split up. Plus, it looks like Kate confirms that Jon was having an affair! The main photo of Kate looking sad and sympathetic will add to People's strong week.
Read more about People's cover HERE!
Us Magazine offers readers a much more scandalous read on Jon & Kate. The magazine features Kate Gosselin & the Bodyguard. (Sounds very much like that Whitney Houston movie!) When you look at the picture, it appears that the two are sneaking out of a hotel making sure that they don't get caught - and this is most likely what Us Weekly was going for in selecting this photo. While the details are weak, the main photo will carry this cover to strong sales on the newsstand.
Read more about Us Weekly's cover HERE!
Meanwhile, Star Magazine goes inside Jon & Kate's "Twisted Marriage." BTW - "Twisted" is one of the most popular words of late in the celeb weekly category. In this case, it looks like it is the perfect word according to the details that Star Magazine is reporting. From a license to cheat on each other to Kate's affair with the bodyguard - does it get any more twisted?
Read more about Star's cover HERE!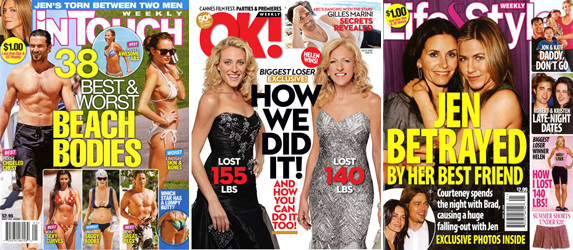 Not interested in Jon & Kate? Don't worry. In Touch Weekly offers a voyeuristic look at celebrities with its Best & Worst Beach Bodies. From Hugh Jackman's chiseled chest to Lindsay Lohan looking to thin, this is the type of package that readers love during Spring & Summer - especially as they lounge by the pool or layout at the beach! What works about this cover? The pictures are new and they say it all!
Read more about In Touch's cover HERE!
Speaking of being outside - many readers are still trying to lose weight just in time for summer. OK! Magazine comes to the rescue with its Biggest Loser Diet Package. Find out how Helen Phillips and Tara Costa lost all the weight and fit into those gorgeous dresses! What's missing from this cover? The before pictures! That would have been a much more dramatic cover.
Read more about OK!'s cover HERE!
Need your Jennifer Aniston fix? Life & Style is covering a feud between best friends Jennifer Aniston and Courteney Cox. There have been reports that Courteney bumped into Brad at a concert recently and spent some time together catching up. Well, now it looks like Jen is really pissed. Will readers care about this battle? Maybe five years ago, but not today.
Read more about Life & Style's cover HERE!
My big winner of the week?
It goes to People Magazine for scoring the exclusive interview with Kate Gosselin. A close second is Us for its scandalous cover featuring Kate & her bodyguard.
For my complete cover critiques, CLICK HERE to visit CoverAwards.
REAL LIFE. REAL NEWS. REAL VOICES.
Help us tell more of the stories that matter from voices that too often remain unheard.