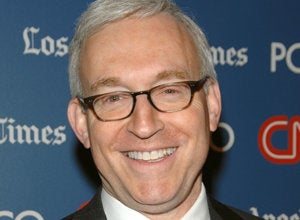 CNN/U.S. President Jon Klein is about to hit his four-year anniversary at the helm of the news network, with one full Presidential election cycle under his belt as he looks to steer CNN into the next one. Klein is well known in the industry for making bold, sometimes outlandish predictions, and journalists can always count on him for a quote "he possesses an inherent self-confidence to say whatever is on his mind and THEN consider the consequences," one 2006 profile read.
And while TVNewser recently threw Klein's words back at him at once comparing his 2007 declaration that CNN is a "real news network" and his 2008 announcement of a D.L. Hughley comedy news show Klein often goes unchallenged by the media press. Just last week, for instance, the New York Observer ran a story about CNN's spending spree quoting Klein as saying, "We can afford more people on our air and off our air. So, goddamn it, we're going to have more people" without mentioning, say, that the network came under fire over the summer for trying to spin layoffs in the Chicago bureau as a nationwide expansion.
So in that spirit, to help celebrate Klein's 4-years at the network, here's a trip down Jon Klein's Predictions That Didn't Pan Out memory lane:
Aaron Brown: The Washington Post wrote in 2005, "One month after announcing that Anderson Cooper and Aaron Brown would continue to be the 'fire and ice' of CNN's 'NewsNight,' CNN/US President Jon Klein said ice is toast." Indeed, Klein assured the Philadelphia Inquirer in October 2006, "There's no plan to slowly phase out Aaron...he's doing a really good job" only to fire Brown one month later.
"American Morning"/Miles O'Brien: In June 2005, a Dallas Morning News article on CNN's hard news focus described the pitch for a retooled "American Morning" featuring Miles O'Brien and Soledad O'Brien: "In a morning television landscape littered with mindless entertainment, there will be one name you can rely on for no-nonsense news: O'Brien." Miles O'Brien was replaced by the network in 2007. Klein also told the Los Angeles Times in 2007 that "American Morning can really catch on with viewers." Of course, the show recently lost a weekly ratings race to MSNBC's "Morning Joe" for the first time, and "Fox & Friends" beats both shows by significant margins.
The Fight Against Fox News: In that same 2005 Dallas Morning News article, Klein said Fox News "should be [nervous]. Because we haven't even started trying yet." In 2006, in response to a question about why CNN still trails Fox News, Klein said, "I don't know, but we're going to change that." As recently as this month, the New York Times wrote that "Jonathan Klein, the president of CNN/U.S., predicted that his channel's approach -- news without an overt ideological spin -- would prevail in the long term."
Jon Klein may be "happily irrepressible," as Jon Friedman put it in his 2006 profile, and so it's unlikely as he moves into his next four years running CNN that he'll monitor his words any more closely. But given the track record of how his bold statements and predictions have panned out, the media press will need to do a better job of that for him.
REAL LIFE. REAL NEWS. REAL VOICES.
Help us tell more of the stories that matter from voices that too often remain unheard.