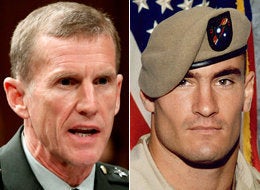 Little attention has been paid to Gen. Stanley McChrystal's back-story and his rise to the height of military command of U.S. troops in Afghanistan. Before becoming the voice of gravity and a champion of higher troop levels in the eight-year long war, McChrystal's resume was sullied by a controversy in that same theater: the misclassified death of Pat Tillman.
McChrystal was the head of Special Operations command in Afghanistan during Army Ranger (and former football star) Pat Tillman's death. McChrystal was the one who approved paperwork awarding Tillman a Silver Star despite knowing (or at least suspecting) that he had died in fratricide and not, as originally determined, enemy fire.
This was once a big embarrassment for the army and, to a lesser extent, McChrystal himself (though he has copped to making an innocent mistake). But when the general was elevated to top spot in Afghanistan this past spring, relatively few publications revisited the affair.
That may change. On Sunday, journalist Jon Krakauer joined the Meet the Press panel to discuss his new book on Tillman's death called Where Men Win Glory. Krakauer offered a harsh assessment of McChrystal's conduct during that period and even stressed that the General's explanations upon reflection were "preposterous" and "unbelievable."
MR. KRAKAUER: After Tillman died, the most important thing to know is that within--instantly, within 24 hours certainly, everybody on the ground, everyone intimately involved knew it was friendly fire. There's never any doubt it was friendly fire. McChrystal was told within 24 hours it was friendly fire. Also, immediately they started this paperwork to give Tillman a Silver Star. And the Silver Star ended up being at the center of the cover-up. So McChrystal--Tillman faced this devastating fire from his own guys, and he tried to protect a young private by exposing himself to this, this fire. That's why he was killed and the private wasn't. Without friendly fire there's no valor, there's no Silver Star. There was no enemy fire, yet McChrystal authored, he closely supervised over a number of days this fraudulent medal recommendation that talked about devastating enemy fire.

GREGORY: And that's the important piece of it. And, and he actually testified earlier this year before the Senate, and this is what he said about it.

(Videotape, June 2, 2009)

LT. GEN. STANLEY MCCHRYSTAL: Now, what happens, in retrospect, is--and I would do this differently if I had the chance again--in retrospect they look contradictory, because we sent a Silver Star that was not well-written. And although I went through the process, I will tell you now I didn't review the citation well enough to capture--or I didn't catch that if you read it you could imply that it was not friendly fire.

(End videotape)

GREGORY: Even those who were critical of him and the Army say they don't think he willfully deceived anyone.

MR. KRAKAUER: That's correct. He, he just said now he didn't read this hugely important document about the most famous soldier in the military. He didn't read it carefully enough to notice that it talked about enemy fire instead of friendly fire? That's preposterous. That, that's not believable.
Krakauer is a widely read and respected writer and biographer. And because his book has been released just at the apex of McChrystal's status in American politics, his writing has become all the more significant and newsworthy. As such, expect more than a few interviewers and outlets to revisit this obviously difficult period in recent army history and one of the few clear dark spots on McChrystal's resume.

Popular in the Community