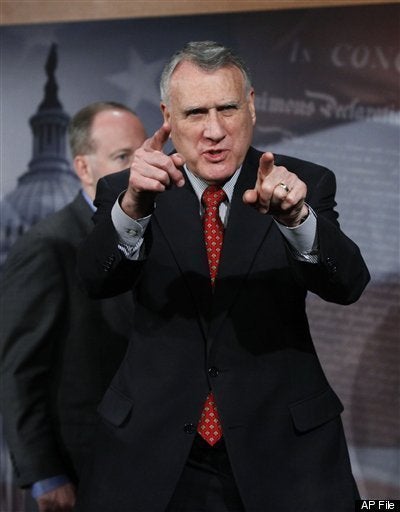 On Sunday, Sen. John Kyl (R-Ariz.) became the highest-ranking Republican to suggest support for the repeal of the 14th Amendment to the U.S. Constitution. Appearing on CBS' Face the Nation, Kyl said that he opposes allowing children of undocumented immigrants to be granted U.S. citizenship and wants Congress to hold hearings on the matter.
In doing so, the Senate's no. 2 Republican didn't place himself on the extreme wing of his party's stance on immigration policy. Rather, he joined what is a growing movement that could very well shape the official policy planks of the GOP.
(A Kyl spokesperson told CBS News on Monday that he supports hearings into the issue, "he did not call for the 'repeal' of the 14th Amendment.")
There are already a number of Republican officials who have preceded Kyl in calling for a reworking of the country's citizenship laws. Sen. Lindsey Graham (R-S.C.) has proposed the piece of legislation that would repeal the 14th Amendment.
An aide to Graham said that there had been no formal dates set for hearings or the bill's introduction. "Senator Graham threw this out there on Fox News and it is something that he has been talking about in South Carolina as well," the aide said. But there was growing talk and legislative activity around the concept.
In the House, Rep. Lamar Smith (R-Tex.) has introduced the Birthright Citizenship Act of 2009, which would attempt to deny children of illegal immigrants U.S. citizenship through statute rather than a constitutional amendment (thereby lowering the vote threshold). He has 93 co-sponsors for that effort including Rep. Nathan Deal, the Georgia Republican who is in a runoff to be the party's candidate for governor.
Senate candidate Rand Paul (R-Ky.) caused a stir shortly after winning his primary by saying he supported stripping citizenship from children of the undocumented. Former congressman and potential Colorado gubernatorial candidate Tom Tancredo -- one of the staunchest anti-illegal immigration voices in national politics -- has made repeal of the 14th Amendment a major cause.
There are many obscure Republican candidates who have made the same proposal, including Kevin Craig in Missouri and Gary McLeod (an obscure Christian conservative who is challenging -- without much hope -- Majority Whip James Clyburn).
But what may be most telling about the 14th amendment repeal campaign -- the element that suggests it could be a major philosophical force within the Republican Party -- are its roots. Well before it became en vogue for Republicans to advocate fundamental change in citizenship laws, the idea was being bandied about among the intellectual bastions of the conservative movement. The Heritage Foundation produced a report on the matter in 2006. And Fred Thompson -- back when he was igniting a whisper campaign that he was the one Republican with the intellectual heft to run for president -- was talking about repealing the 14th amendment back in 2007.
"I think that law was created at another time and place for valid reasons," said the former U.S. senator from Tennessee. "It probably needs to be revisited."
UPDATE: An earlier version of this story, echoing previous reports at other sites, listed Rep. Jack Kimble (R-Calif) as a co-sponsor of House legislation. Kimble is a fictional person. His name, obviously, has been removed.