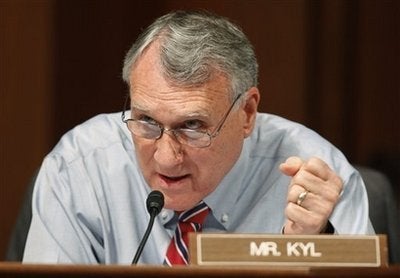 WASHINGTON - History is threatening to repeat itself in the Senate, as Jon Kyl works furiously to deal a vulnerable president a stinging rebuke on a key nuclear treaty, threatening American relations abroad in a bid for a political victory at home. Kyl pulled it off in 1999, dealing a surprising defeat to President Clinton's Comprehensive Test Ban Treaty. Today, Kyl is back at it, working to kill the START Treaty that is elemental to U.S.-Russian relations.
It went swimmingly for Kyl last time around, when the Arizona Republican catapulted himself into Republican leadership with his successful effort against Clinton. The defeat stunned American diplomats, and put the United States in a small category of non-signatories that included Iran, North Korea and Pakistan. Efforts to persuade other nations to ink similar treaties were undermined as foreign diplomats could correctly respond that the United States wasn't doing what it wanted others to do. When Kyl began suggesting that the New START Treaty couldn't be dealt with during the current lame-duck session, threatening its success, international-affairs watchers began to get déjà vu.
Kyl is no arms-treaty dilettante. For more than a year, Kyl assigned two senior staffers to work full time against the treaty, according to a post-mortem analysis conducted by advocates of the treaty.
Clinton had been beaten long before he knew it. In mid-1998, Kyl and his staffers were in full battle mode against the treaty, long before the State Department or White House was focused on the legislative work that would be needed to secure the votes. Kyl met one-on-one with every Republican and by early spring, according to the post-mortem, had enough votes in his pocket to kill the treaty.
The administration was confident it had the votes of Sens. Dick Lugar, Ted Stevens and Pete Domenici, though each of them had committed to Kyl that they'd oppose it. There was a presumption within the administration that while some senators would posture against the treaty, they wouldn't dare vote it down, given the international ramifications. The same presumption exists today. It was wrong in 1999.
Kyl was elected in the conservative wave year of 1994. He is the number-two Senate Republican and first became part of GOP leadership in January 2003, when Republicans took the Senate back from Democrats.
The opposition of Dick Lugar was key to Kyl's victory. "Lugar made a floor speech on that and it turned the tide," said Mike Helmke, Lugar's spokesman. Lugar opposed the treaty, said Helmke, because those with expertise in the area, the lab directors who would be key to any inspection, warned him that it was unworkable. This time around, the lab directors are satisfied, and so is Lugar.
"We think we have the votes to win START," Helmke said, echoing the State Department and sources who are also cautiously optimistic.
The New START would accomplish a 30 percent reduction in strategic deployed nuclear weapons and restart a system of inspections that lapsed when START expired in December 2009.
Popular in the Community