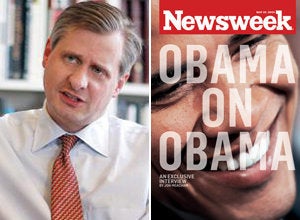 It's not your father's Newsweek, but that's not what Jon Meacham wants it to be.
The 76-year-old magazine is in the midst of a dramatic overhaul — a redesigned and reorganized issue hits newsstands today; a new Newsweek.com rolled out last week; the magazine is slashing its circulation in favor of a smaller, but more engaged (and high-paying) audience; and soon, the company will move from its Midtown Manhattan headquarters to a decidedly hipper (and cheaper) location in downtown New York.
Structurally, the magazine has been reorganized into four parts, what Meacham calls a shift from organization by "content to genre." In the front of the book, Periscope has become Scope, a section of short-form content. The magazine's columnists have been assembled together in a section called The Take, and after a features well, there is a culture section.
"The culture section replaces the more traditional nation/foreign/business/arts section structure," Meacham said in an interview last week. "I think it puts us in a stronger position to produce things with high caliber magazine values."
But more important than the structure, the magazine's mission has changed — indeed, it looks (with its increased use of white space and more dramatic use of photography), feels (with its heavier stock), and reads (with articles like Meacham's interview of President Obama and Tina Brown's profile of Nancy Pelosi) more like a monthly magazine than a newsweekly.
"We will be engaging, in depth, and tethered to the news but not trapped by it," Meacham said. "Our goal was not to scramble around getting little mentions of things that were in the news. A key part of this process is putting out the magazine that only we would want to read and not pretending that the generic reader out there needs a remedial course in current events."
It's that "only we" factor that is driving the magazine's effort to slash its rate base and court an elite audience that will pay more for each issue.
"The goal is by this time next year to be down to 1.5 million subscribers who will be paying slightly more for the magazine in order to produce a more engaged and definable demographic audience for advertisers," Meacham said. "The magazine is quite inexpensive now to subscribe to, and even after we raise it it's not terribly expensive. I think at the highest end it'll end up being something like $0.85/week, far less than a good cup of coffee these days."
And while it may sound as though Meacham is aiming to make Newsweek more like The Economist — something he's claimed to be interested in many times before — he cautioned that his magazine is unlike anyone else's.
"I hesitate to compare it to other magazines just because this is Newsweek and what we want to do," he said. "I love The Economist, I love the New Yorker, I love Time magazine, I love the Atlantic — I admire all of those editors and all of their staffs, but I just think in a country of 307 million people, in a globalized age, there's room for a lot of different voices and I think we need a lot of different voices. And we're going to be one of them."
Meacham called the redesign process — which he undertook with design firm Number 17 — "incredibly invigorating and liberating," but he emphasized that while he was excited to reimagine the magazine, it is the product of "76 years of blood, sweat, and tears and excellent work of the folks who came before us."
"We stand on the and in the shadow of the people who have been putting this magazine out week in and week out since 1933," he said. "And it's not that Newsweek wasn't good before today. It has always been an excellent magazine for the times, but the times have changed, and the business realities have changed."
Popular in the Community