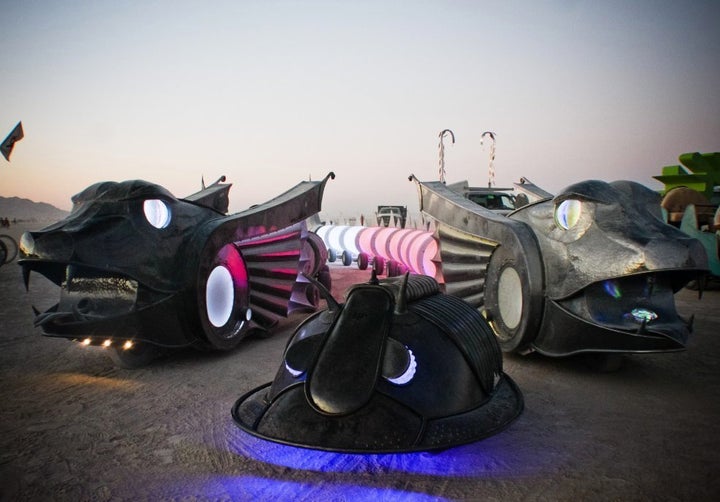 Who: Metalworker, fire master and Burning Man legend, Jon Sarriugarte.
Current Gig: Sarriugarte owns Form & Reform, a blacksmithing company where he builds gorgeous custom metal pieces. (Picture rustic nine-foot chandeliers for Napa's destination restaurants and farmhouses.) He's also the co-owner of the Kraftworks building in West Oakland -- a collaborative shop that houses more than 20 industrial craftsmen and performance artists.
In his spare time, he helps orchestrate the Burning Man art car program, dabbles in performance art management, is a board member of the West Oakland Commerce Association and appears on programs like "Modern Marvels" on The History Channel.
Neighborhood: West Oakland
(SCROLL DOWN FOR PHOTOS AND VIDEO)
When did you first attend Burning Man and what was it like? I first went in 1995 with my friend John Law (Burning Man co-founder) when it was a friend's annual camping trip. It was just a bunch of people wearing overalls and shooting guns in the desert.
Any crazy stories from the early years? The first year I was there, John walked around with a bucket and asked if people wanted to chip in money for the porta-potty. Then the next year, he and his wife set up an RV at the main road and charged everyone $20 to cover expenses. But I don't think they realized how many people were coming. At the end of the first day, they had over $20,000 in cash in an RV in the middle of nowhere by themselves with no protection, and everyone knew about it. So they buried the money in the desert until the end of the trip.
How has Burning Man change over the years? What Burning Man is now and what it was then are two entirely different events. I stopped going for a while in protest, and just bitched about it for years. I finally went back in 2003 and almost killed myself when I was tearing through the desert on my motorcycle going 65 -- all of the sudden a big fence appeared in front of me. It's different now with the fence and the rules. I'm from Idaho, just on the other side of that desert, so it's strange for me to visit and not have the ability to go wander through all of the places I remember.
But the level of art that is now at Burning Man is absolutely incredible. I see things I've never seen before. Last year we went before the gates opened when it was just artists setting up. There were 20,000 people before the gates even opened. It was pretty cool to realize that almost half of the people who attend are artists.
How did you start building art cars? When I met my wife (sound designer Kyrsten Mate), she wanted me to build something fun for Burning Man, so we made the Alpha Fox Spaceship. Then we just kept going -- we built the Electrobite (a metal trilobite), the Zeppelini (a zeppelin) and the Golden Mean (a giant iron snail that shoots fire out of its antenna). And last year we built the Serpent Twins.
Tell me about the Serpent Twins. The Serpent Twins is a pair of 50-foot snakes. We started researching mythology and had the idea for a serpent, since everyone has some coming-of-age story about a snake. Then we heard the theme (rites of passage) and knew we had to do it. Originally we wanted to create just one, but eventually decided to create two -- a yin and a yang: two serpents to complement each other and to represent my wife and me. I'm dark and dirty, all metal and fire. Kyrsten is light and clean, rainbows and raver lights, blinky and beautiful.
What do you do when you're not building stuff for Burning Man? I'm a blacksmith and metal fabricator and I run my company Form & Reform. I make metal light fixtures, furniture and custom metal work. Right now we're making a metal heart for a wedding. It's two halves of a heart that will be welded together during the ceremony.
I also do a lot of fun stuff with SRL (Survival Research Laboratories). I made a fire vortex with them. It throws out fireballs in perfect shapes -- rings, orbs, a flat disc, etc. SRL really is the grandfather of this kind of culture.
Has Oakland influenced you as an artist? Where we live is a unique place in the world. And I mean that -- world. I came to Oakland to be around this creativity and to meet the people I've met -- people like John Law and Larry Harvey (Burning Man cofounders). We're also so close to Silicon Valley so we have this strong technology culture that allows us to do things that we wouldn't normally be able to do, like shoot fire out of vortex five feet above someone's head with a remote control and not worry about an accident.
Oakland has been cited for its recent "renaissance." What do you think about the changes in your town? I think they're great, but I wish the fucking politicians would catch up. A lot of people don't care about Oakland, and they should. I see people getting excited about Art Murmur, and I see creative people doing amazing things right on my street. But the level of political corruption just baffles me. Oakland deserves to be a better place.
See the Serpent Twins in action in the video below from Burning Man 2011. Then check out Sarriugarte's other projects in our slideshow below: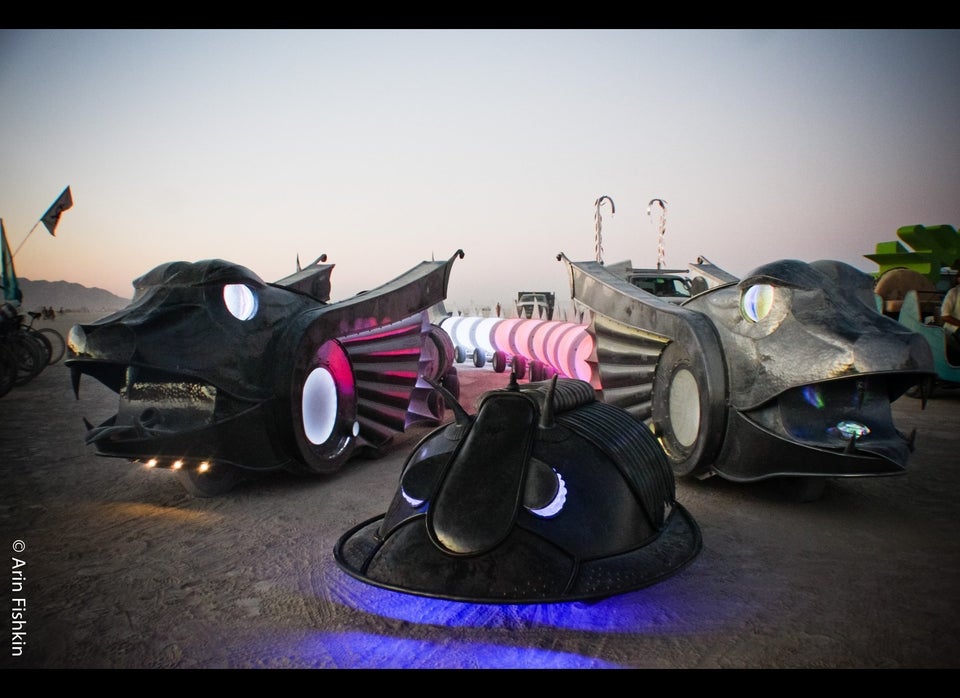 Popular in the Community