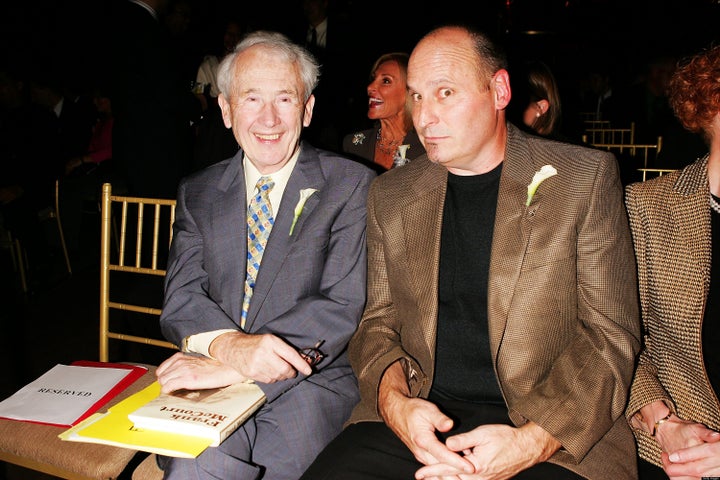 Scieszka's books are funny, and almost always subversive, yet the author has been honored by organizations, panels and newspapers across the globe, including Publishers Weekly, American Library Association, The New York Times, and many more. Even still, a discussion took place among the three authors on Sunday's panel as to whether humorous children's books are taken "seriously" enough by critics and award panelists.
Of course, all three authors value humor in books for kids -- as do I -- but what interests me most is to veer away from asking "if" and instead ask "why" funny books are important for kids. So, why are funny books valuable?
The conversation on Sunday remained light, but the panelists each made some telling remarks. Barnett said at one point that humorous writers are "so obviously seeking the approval of the audience," which makes sense if you consider how well funny books have done commercially from Dav Pilkey's "Captain Underpants" to the current bestseller "It's a Book" by Lane Smith (who also illustrated Scieszka's "Stinky Cheese Man").
Echoing a similar sentiment, E. Lockhart said, "My editors tell me to turn it to 11," which points to the fact that book publishers understand the public's desire for comedy.
One could argue that the public's reception -- that is, that the public has bought funny books -- proves their value. On top of this, societies dole out awards annually to award humorous books, including the Society of Children's Book Writers and Illustrators' Sid Fleischman Humor Award annually and the Roald Dahl Funny Prize in Britain. Still, these awards stand apart from the big-ticket prizes, including the Caldecott and Newberry honors, which have traditionally honored more "serious" books. As a result, these honored books are generally taken more, well, seriously.
There remains an aching feeling that funny books, no matter how popular, aren't as important as other books. But is there actually something bigger, better -- transcendent even -- about humorous books?
On the panel, Scieszka mentioned his "crossing swords" story from "Knucklehead," in which the term "crossing swords" refers to the activity wherein Scieszka and his five brothers would collectively pee into the same toilet at the same time, intercepting streams like swords in a real life duel.
In the story, Scieszka masterfully leads up to the scene with details of his somewhat pedantic mother. He writes:
"As a nurse, Mom was big on using the correct terms for bodily functions. We did not 'pee.' We 'urinated.' We did not 'fart.' We 'passed gas'."
Most readers will chuckle at the matter-of-factness in Scieszka's description; an astute reader might also notice the fact that the mother prefers "passing gas" to, say, "flatulence." As a result, the author arrives at a punch line that functions on a number of different levels:
" 'Jim and Jon just peed on me!'
'No,' said Mom. 'They just urinated on you.'
'We didn't pee on him,' said Jim.
'No,' said Mom. 'You didn't urinate on him.'
'We were just sword fighting,' I said.
'No ... what?!' said Mom.
'All you knuckleheads just get in the car,' said Dad."
Most importantly of this multi-layered joke, however, is that it points out the shortcomings of manners, while also demonstrating the instability of language. In this moment, what the Scieszkas call "pee" seems to matter more than the pee itself, while simultaneously pointing out why it should or shouldn't matter what you call "pee" at all!
It's a kooky moment that turns everything on its head. It is both a constructive and imperative passage of writing for children -- just as, or more, important than any passage of so-called serious literature.
Unfortunately, many books for kids rely on sentimentality; luckily, however, funny books do not. Sappy books are not only boring, but also one-dimensional. In contrast, Scieszka's story allows children to challenge conventions by finding the absurdity in manners, rules, and even language itself. Passages like this one from "crossing swords" unlock children's imaginations. Even better, writing such as this can teach children to question the order of things, including why we call "urine" "pee," or, er, "pee" "urine" and why we "cross swords," or, er, I mean why we don't "cross swords" ...
Using Scieszka's writing as an example, the importance of humorous children's books becomes clear: They not only engage young readers, but can also boost critical thinking by allowing readers to challenge conventions and the status quo. The kicker is, of course, that judging by Scieszka's sales figures and popularity, funny books have become part of the canon for kids.
Popular in the Community