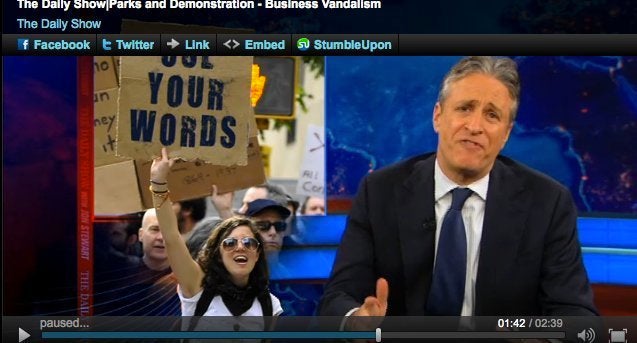 On Thursday's night episode of The Daily Show with Jon Stewart, the titular late-night host had some stern words of advice for the protestors of the Occupy Oakland movement.
While Stewart called the protests, "a visceral expression of frustration with our system's institutionalized economic inequality," he warned that, "you will always be judged by your worst elements and it's very tough to wrangle a leaderless movement."
During Wednesday's largely peaceful "General Strike" demonstrations, protestors caused property damage at a Whole Foods store. The targeting of the store stemmed from a rumor circulating on Twitter that managers at the Austin-based grocery store chain had threatened to fire any worker participating in the strike. The allegations were denied by the company.
Also damaged were the windows of a Men's Warehouse and a Wells Fargo. In the case of the Wells Fargo, a sign apologizing for the damage was later affixed to the broken window.
The comedian concluded by suggesting a method of reigning in the relatively small group of unruly individuals who have reportedly been been responsible for much of the vandalism: peer pressure.
"It was the only reason I started smoking in high school," Stewart joked.
Popular in the Community