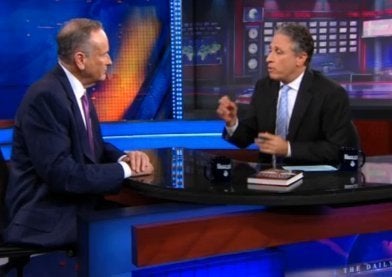 After Jon Stewart's widely publicized appearance on Bill O'Reilly's show last week, O'Reilly came to "The Daily Show" Monday night for a rematch.
Stewart pulled out all the stops for O'Reilly--even having a jazz crooner introduce him in style.
Both hosts agreed that O'Reilly was the fairest person at Fox News--or, as Stewart called it, the "Temple of Doom."
Stewart also revealed that he had asked to appear on Glenn Beck's show, but that Beck had turned him down.
"He doesn't know who you are!" O'Reilly joked.
"I would love to have a conversation with him," Stewart said.
"Nobody can," O'Reilly responded. "He's in a sealed room...he's like Elvis and Howard Hughes."
The two also agreed that there is far too much corruption in both media and politics.
"I'll ally with you [on that]," O'Reilly told Stewart.
"Wait a minute!" Stewart shot back. "Did you just propose gay marriage to me?!"
WATCH:
Watch Stewart's "post-interview analysis":