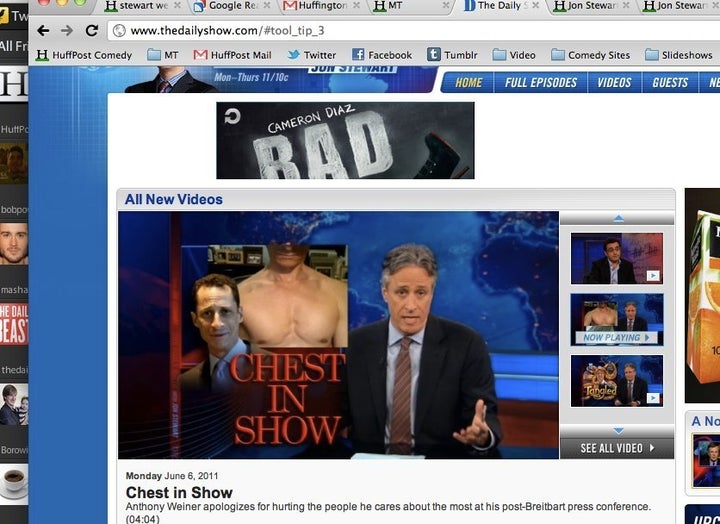 It's been really interesting to observe Jon Stewart on these past few episodes of "The Daily Show" since the Anthony Weiner scandal broke. Stewart's been conflicted, first defending his friend, then urging him to tell the truth, all the while reveling in the fact that "D**k shot 2011" is the biggest news story of the moment even though there are way more important things going on.
Stewart concluded his coverage of the scandal Monday night after Rep. Weiner's surprise press conference that afternoon. Since BigGovernment.com's Andrew Breitbart released even more pictures including a bare-chested photo "that the congressman's d**k apparently took of him," it was time for Weiner to come clean about it all. Stewart was shocked, but more about Weiner's appearance than his scandal:
"I can't believe me and this guy are the same f**king age, that's my problem!" Stewart said.
Weiner's apology was teary-eyed and full of regret, but it didn't start out that serious. First Breitbart "Kanye'd" Weiner's press conference, as Stewart described it, by commandeering the podium for nearly half an hour.
"This is the weirdest f**king story I've seen in my life!" Stewart said. "Or, the best episode of 'Maury' EVER."
But then things got real. Weiner apologized for hurting the people he cares about and then even took questions from the press. Stewart ended his coverage of the scandal here, and made a declaration:
"And there you have it. At 4:25 Eastern Standard Time, this story officially became sad."

Related
Popular in the Community