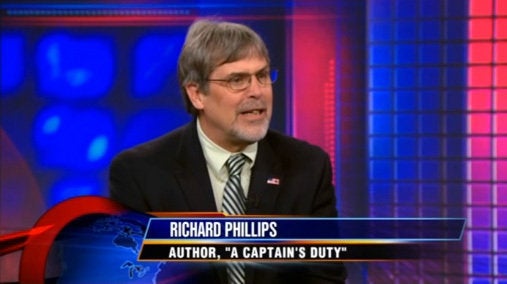 Richard Phillips, who captained a boat that was taken hostage by Somali pirates last year, has chronicled his experiences in a new book called "Captain's Duty," and he came on "The Daily Show" last night to talk about the attack and his book. He explained how he offered himself up to be taken hostage by the pirates in order to protect his crew, and how he wasn't sure if he was going to make it until he was rescued by a team of Navy SEALS.
The irony, as Stewart points out, was that Phillips's boat was loaded with food to aid Africa which would eventually go to Somalia, though he didn't mention that to the pirates, as Stewart suggested. He also spoke about how ridiculous it was that there were no guns allowed on their ship, and therefore no way to defend themselves. "We were basically left with flares -- that's what I was shooting, flares... while they were shooting AK-47s up at me," he said, though he said that things were changing and that guns would be allowed on the ships in the future.
REAL LIFE. REAL NEWS. REAL VOICES.
Help us tell more of the stories that matter from voices that too often remain unheard.