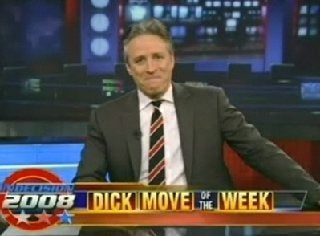 Last night on "The Daily Show" host Jon Stewart unveiled a new feature: The "Dick Move of the Week" (presumably a recurring segment). "As the race wears on, you're going to start to see the campaigns behaving a little bit more aggressively, trying to score points on the other guy," said Stewart. "But there is a very fine line between an aggressive move and what Beltway insiders refer to as — a bit of a dick move." See why the Obama campaign got the nod below:


It's the second time that Stewart has implied that Obama was a dick — the first was on March 3, 2008, when, in a rundown of candidate swipes at each other, he observed that Obama "seems like he might be kind of a dicky boyfriend." Watch it below:


Note that March 3rd was the night before Super Tuesday II — and also the night that Stewart hosted Clinton for an interview live via satellite. Coincidence? Or yet another example of the comedy conspiracy against Barack Obama? Debate and discuss in the comment sections below — feel free to post links to your favorite totally biased "Daily Show" and "SNL" segments so we can all watch and decide for ourselves.
Related
Popular in the Community