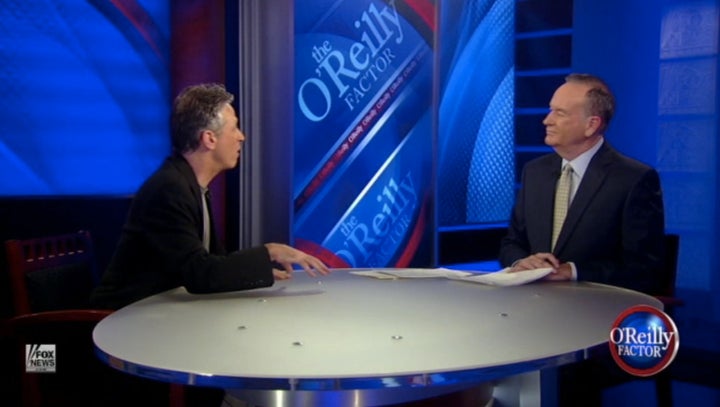 Bill O'Reilly and Jon Stewart had a lively debate on Monday's "O'Reilly Factor" about whether it was right of the Obama administration to invite rapper Common to the White House for a poetry event last week.
O'Reilly's position was clear. He told Stewart he was "shocked that you don't understand why people like me and millions of Americans are upset, said that Common supported "cop killers" and that anyone who went to the White House should be "unimpeachable."
Stewart said Common was actually supporting people who he believed were unjustly convicted of killing—something that musicians such as Bono, Bruce Springsteen and Bob Dylan had also done.
O'Reilly was dismissive of this line of reasoning. "Is this Perry Mason we're talking about?" he said.
"Why are you drawing the line at Common?" Stewart asked. "There is a selective outrage machine here at Fox that pettifogs only when it suits the narrative that suits them. This guy is in the crosshairs in a way that he shouldn't be."
(By the way—pettifog? That means "to bicker or quibble over trifles or unimportant matters.")
O'Reilly said he thought Common's past statements were "enough for a sitting president to say, 'you know what? This guy might be radioactive!'" Moreover, he said, someone like Obama with "a history of associating dubious people" should have been more cautious. He asked Stewart what he would have done in Obama's place.
"If I'm the president and I'm booking my own poetry slams, throw me out of office," Stewart said. He asked O'Reilly to do something that would really honor police officers and push to reinstate the ban on assault weapons instead of "wasting your time" on Common.
Related
Popular in the Community