NEW YORK ― A star-studded slate of comedians and musicians filled the Hulu Theater at New York's Madison Square Garden on Monday night for the 12th annual Stand Up for Heroes event. Although the goal was to raise money for the Bob Woodruff Foundation, which supports injured veterans and their families, some celebrity guests couldn't help getting a little political onstage on the eve of the midterm elections.
Jon Stewart began his set joking about a caravan of Central Americans traveling north through Mexico and President Donald Trump's deployment of thousands of troops to the U.S.-Mexico border.
"All the servicepeople, I'm so glad you're here. I thought you'd be at the border," he told the crowd, which included dozens of veterans in uniform. "I'm so scared. There's thousands of sharecroppers coming at America at 1 to 2 miles per hour. They'll be here by April."
"We're in a terrible situation with the world," he said, later addressing the epidemic of gun violence in America. "I don't understand how we're not doing anything. You know, if other people kill us, we'll go to their place forever. It's basically how Americans know geography now. But if we kill each other, we do nothing."
Stewart wasn't the only comic to touch on politics. British comedian Jimmy Carr said, "Trump ran on a campaign saying that he wanted to build a wall. That was his one good idea, because walls work … I was in China last year. I didn't see one Mexican."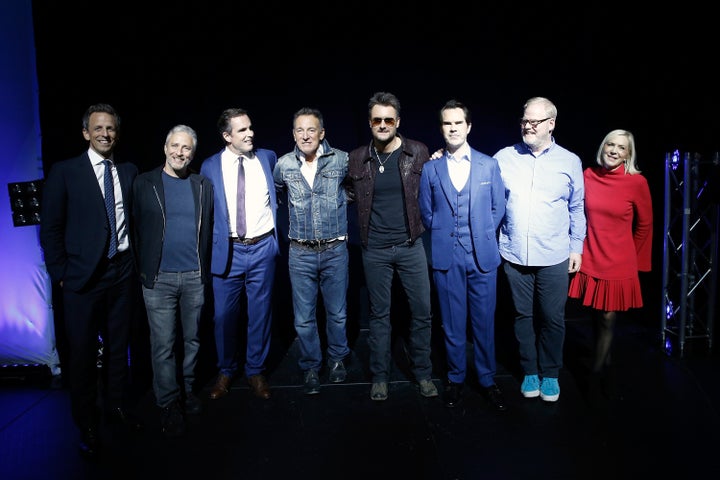 Carr added, "I realize it's divisive to talk about your president, because Donald Trump's presidency has really divided public opinion. Some people think he's a breath of fresh air. And some people think he's a fucking idiot. But one thing's for sure: He's a fucking idiot."
Stewart and Carr were joined by fellow comedians Seth Meyers and Jim Gaffigan, and Eric Church and Bruce Springsteen performed. The Boss, a frequent guest at the annual event, sang "This Hard Land" and "Dancing in the Dark," as well as "If I Should Fall Behind" with his wife, Patti Scialfa. He brought Church onstage to join him on "Working on the Highway."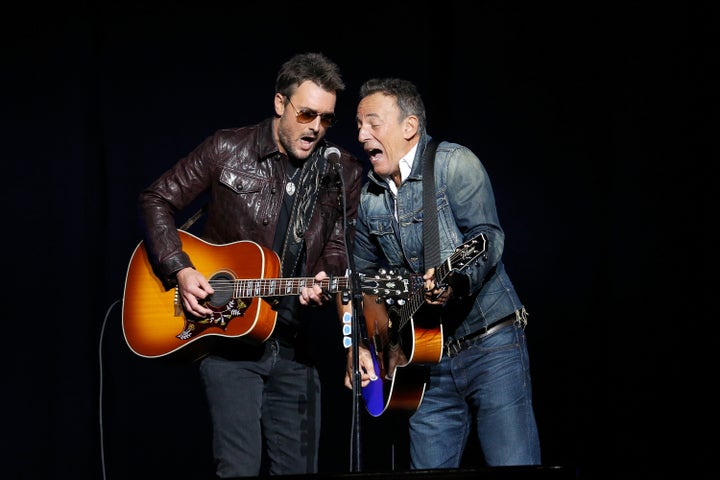 The celebrity guests largely stayed focused on the task at hand: raising money for the Woodruff Foundation, started by the ABC News journalist, who was injured while on assignment in Iraq in 2006. Throughout the evening, Woodruff and his wife, Lee Woodruff, stressed the importance of voting in Tuesday's midterm elections, particularly in light of the servicemen and -women in attendance.
"For everyone tomorrow who's maybe thinking the rain is not a reason to go out and vote," Lee Woodruff said, "these men and woman preserve our right every day to vote red, white, blue, purple, yellow — please … go out and vote."
REAL LIFE. REAL NEWS. REAL VOICES.
Help us tell more of the stories that matter from voices that too often remain unheard.
BEFORE YOU GO
PHOTO GALLERY
Jon Stewart