"Yes, Chris Christie, your amazing negotiating skills will get New Jersey a lot less money than almost everybody associated with this case, including Exxon, thought it would get," Stewart said.
Christie also diverted a lot of that money to balancing the state budget gap rather than paying for cleanup. Not surprisingly, Exxon made contributions to the Republican Governors Association that Christie chaired last year.
Is Christie -- a potential 2016 Republican presidential candidate -- in bed with Exxon?
"Christie said he was a great negotiator, he didn't say which side he was working for," Stewart said.
See what else he had to say in the clip above.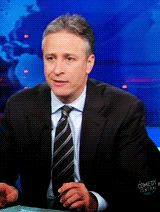 Jon Stewart GIFs
Popular in the Community