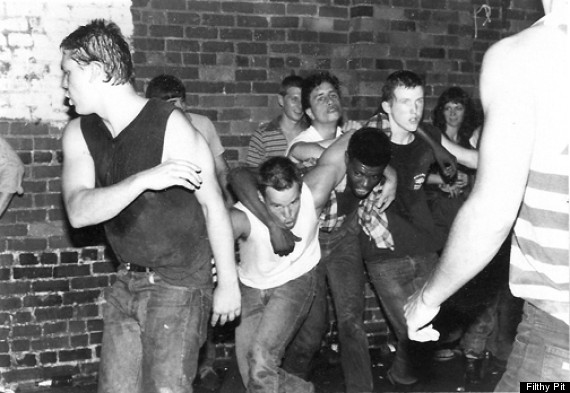 UPDATE: Andrew Necci of the Richmond-based RVA Magazine has done quite a bit of research, and has come to the conclusion that the guy identified as Stewart in the photo is probably Alford Faulkner of the band Red Cross. Thanks for the heads up, Jason.
ORIGINAL: Here's a good one for Jon Stewart fans. Long before stepping behind the pulpit of his "Daily Show" desk, Stewart (formerly Jon Leibowitz) loved going to punk shows when he was attending the College of William and Mary. And now, we have proof.
In the early 1980s, photographer Irish Willis Peele snapped a photo of a man he identifies as Jon enjoying himself at a Richmond punk show featuring the bands Front Line and Dead Kennedys. Peele posted it on his blog and it's been making the rounds. Celebrities -- they're just like us! When we moshed at punk shows in the early '80s!
Nobody should be surprised that Stewart was into the political and social commentary the DKs spouted through their music -- Jon has described his young self as "very into Eugene Debs and a bit of a leftist."
Related
Popular in the Community