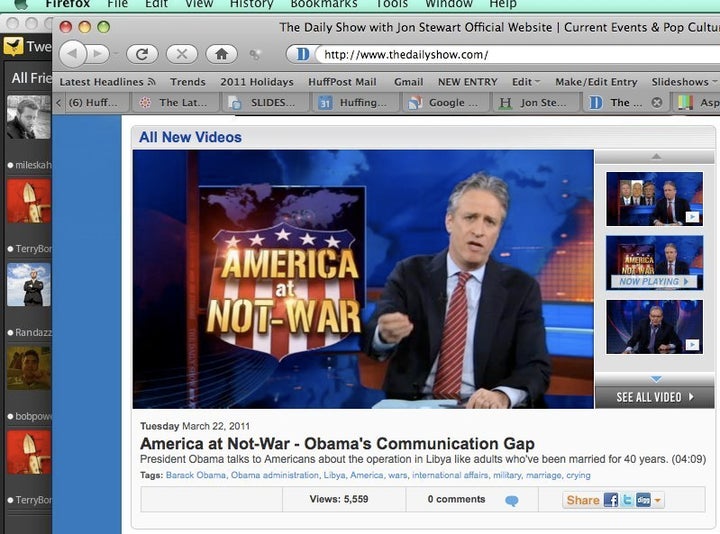 For the second night now, Jon Stewart offered his complaints about the U.S. operation in Libya on "The Daily Show," this time focusing on President Obama's lack of communication before and during the ordeal.
Declaring the situation "America At Not-War," Stewart first showed how Republican congressmen are expressing disdain for the President's plan, despite him approving a no-fly zone that many endorsed.
But is this just usual bipartisan bickering or are the criticisms correct? Stewart said he needed to know more about the Administration's rationale behind the operation. While President Obama says we are stopping violence against civilians, Stewart pointed out that there are protesters in other countries who are also getting killed, "and for them we're enforcing a 'not-even-gonna-try-zone.'"
Stewart has a theory: that Obama's communication gap is partly due to the fact that he hasn't done "the run-up tour" like other former Presidents have before going to war (or "not-war," in this case). This "tour" starts with making a case for military action, letting the other side argue about why you shouldn't, letting the people march and "pick a ribbon color" and then waiting six months so you can take action without a media attack. Obama did not do this.
"You Mr. President, You don't even seem to think enough of us to lie to us," Stewart said.
Admitting that he didn't even know who Obama's Chief Of Staff or National Security Adviser is, Stewart dug further into Obama for not being transparent about his intentions and suggested that he should "meet the press." He also argued that the T.V. appearances his administration has made thus far regarding Libya only offer one explanation for the operation: that we are protecting civilians.
"It's like you're using them as some kind of human shield against a full-scale media attack," Stewart said.
The segment ends with another spot-on analogy: Obama and his camp speak to us like we've been married for 40 years. Watch the clip below to see Stewart's amazing repressed anger dialogue with the President that turns into a full-on break up.
Popular in the Community