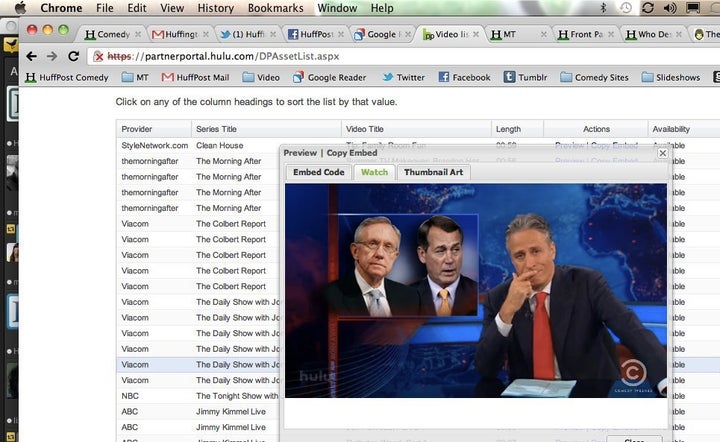 Jon Stewart kicked off this week's "Daily Show" with a look at the East coast's epic heat wave, but quickly moved to an even hotter topic: our country's looming "Armadebtdon."
As America heads toward an economic crisis unless an agreement can be reached about raising our debt ceiling, Jon Stewart wonders why it's so hard for this 112th Congress to do what's been done 172 times in the past. He further pointed out how the ceiling was raised 17 times under President Reagan, five times under Bush, four under Clinton and seven times under George W. Bush.
But this congress? They're acting more like "a skunk with its head in a jar of Skippy peanut butter," as Stewart explained (with a hilarious visual). The Democrats will not accept budget cuts and the Republicans will not accept tax hikes, and neither side will accept a short term deal -- or so we thought. Now House Speaker Boehner has said he'd accept a short-term deal, putting the ball in the Democrats' court even though neither side wants to deal with this later.
"So both sides switched, everybody caved and no one agreed," Stewart concluded. He went on to mock Boehner's plan specifically: "His new plan says, 'Hey, this sucked so much, let's do it again in nine months!'"
Finally, Stewart came up with a perfect analogy for the bickering in Congress, and what may be the only explanation for this contentious behavior. He likened the back-and-forth to a bad breakup, the kind where one person wants out but doesn't want to pull the trigger:
"Do you want out of this relationship so bad, but dont have the balls to leave, so you've all decided to act like giant a**holes to force us to break up with you? Because if so, get the f**k out."
Related
Popular in the Community