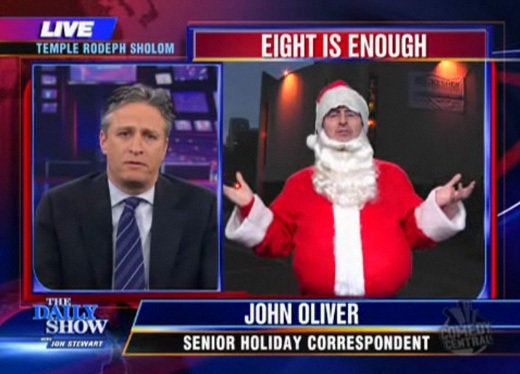 Oliver, dressed as Santa Claus, seemed unable to grasp the joyousness of the holiday, as he planned to cheer up children and "pass out some real presents after they're done with their hash browns."
Oliver's obliviousness prompted a valiant, though unsuccessful, effort by Stewart to defend the Jewish holiday, even regaling everyone with the story of Hanukkah.
"We had this oil," Stewart began, quickly realizing it couldn't compare to the story of Christmas. "We, um, used it for lamps... And we actually didn't think it was a lot of oil... It actually ended up lasting two to three times longer than we thought... Anyway, that's the story."
Full Episodes
Related
Popular in the Community