How can you bring life to an otherwise dull and dry discussion of global trade deals? Add some Donald Trump!
On Wednesday night's "Daily Show," Jon Stewart complained that he was going through withdrawal after Trump's Tuesday announcement that he was running for president -- so much so that he had a hard time talking about the Trans-Pacific Partnership.
"I'm going through withdrawal -- I need me some Donald," Stewart said, breaking out his new Emergency Presidential Campaign Trumpinator 2016.
It's a giant, tacky over-decorated button that releases random quotes from Trump's announcement.
"Any time I feel like the world's getting me down or boring me, and there's nothing to look forward to, I just give myself a little slice of his kickoff speech," Stewart said, hitting the button.
"I'm really rich!" Trump replied. "How stupid are our leaders?"
"That's better than freebasing," Stewart said.
Check it out in the clip above.
Before You Go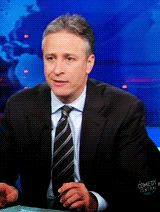 Jon Stewart GIFs
Popular in the Community