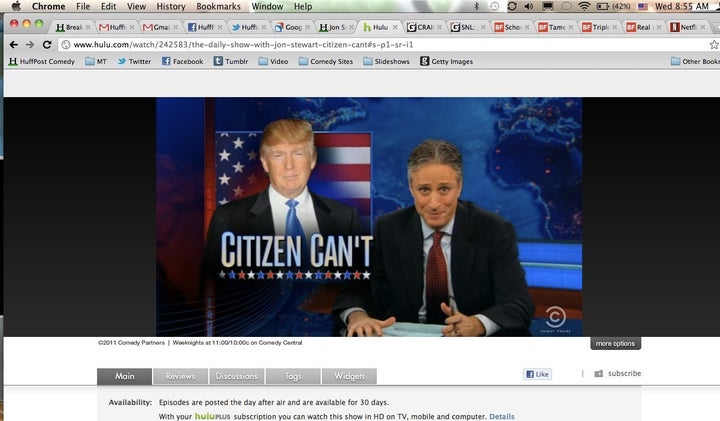 First, Stewart gave a few somewhat legitimate reasons as to why Trump should keep trying to win the GOP nomination. For starters, The Donald has talked a good game, even saying he thinks he could win a general election. If he's so confident, why leave the race so soon? On top of that, he never told us what his researchers "discovered" in Hawaii when they were searching for President Obama's birth certificate. And now he'll never tell us!
Stewart then got to the real reason he wants Trump back in the race: he's invested too much time, energy and money (state-of-the-art Trump coverage centers don't build themselves) to stop mocking such a pitch-perfect presidential candidate for comedy:
"I've waited my whole life for a Presidential candidate like you: a mix of arrogance with a lack of filter and easily exploitable physical traits."
If Stewart's pleas and his bluntly stating that "No one wanted you to be President, we just wanted to watch you run" weren't enough, watch the rest of the segment below to see John Oliver work a Dickensian street urchin outfit while he begs Trump for a just a little bit "more."
Popular in the Community