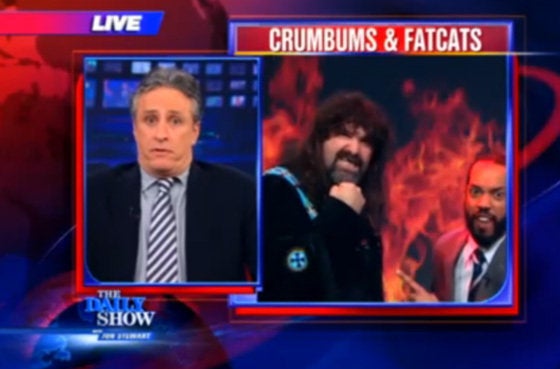 Jon Stewart opened the show last night with a rundown of the double-standards by politicians over the years. Rattling off name after name, Stewart said, "It's hard to imagine that any of these people believe in anything. Their ethics are purely situational."
Correspondent Wyatt Cenac joined Stewart and compared politicians to professional wrestlers, who regularly switch sides to keep things exciting. To further prove his point, he brought out Senior Ass Kicker Mick Foley (who you may remember from an adrenaline-pumping edition of Gaywatch).
Foley took on the filibuster, personifying both sides of the argument, as Cenac hopped around like his manager. Screamed Foley: "You little pissant, pencil neck geeks think a filibuster can stop the will of the people? Well I've got two words for you: Reconcile This!"
After seeing Foley switch sides with ease, Stewart made the mistake of questioning the authenticity of the entire process. "The whole thing is fake like professional wrestling. Is that what you're saying?" Big mistake, Jon. Don't mess with Foley.

Calling all HuffPost superfans!
Sign up for membership to become a founding member and help shape HuffPost's next chapter