After around 16 years of navigating through the muck of American politics, Jon Stewart finally wished "The Daily Show" #JonVoyage.
Aside from the episode being extra long--around 50 minutes--not a lot was known about Stewart's final show heading into Thursday, but the surprises were all the Moments of Zen you'll ever need.
The show started with an emotional reunion of "Daily Show" correspondents, including Samantha Bee, John Hodgman, Larry Wilmore, Lewis Black, Kristen Schaal, Jason Jones, Al Madrigal, Rob Riggle, John Oliver, Darth Vader (because why not) and even Steve Carell. Trevor Noah showed up to measure for his new desk, Craig Kilborn came to gloat that Stewart finally ran the show into the ground and Stephen Colbert brought Stewart to tears during an emotional goodbye, calling the TV host a "great artist and a good man."
Stewart then went all "Goodfellas" to introduce the staff, Martin Scorsese made a surprise appearance and we even got to meet the higher-ups:
Stewart thanked Comedy Central for the opportunity, reminded everyone that the show isn't ending -- there's just a "pause in the conversation"-- and gave us a last warning to beware of "bullshit":
The Boss himself, Bruce Springsteen, played Stewart out, and rather than go into goodbyes, the comedian left us saying he's "just going to get a drink."
Until next time, Jon. Until next time.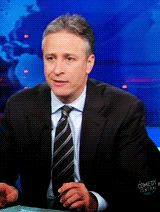 Jon Stewart GIFs
For a constant stream of entertainment news and discussion, follow HuffPost Entertainment on Viber.
Related
Popular in the Community