The network's talking heads have been singing the praises of Jordan's King Abdullah II since his country stepped up its attacks on ISIS after the militant group burned one of its pilots alive.
Fox commentators even suggested that President Barack Obama hasn't shown the same resolve.
"Ultimately, what the right is saying is, 'Why can't Obama be more like this powerful Muslim king?'" Stewart said. "Which is weird -- because, if I may say, that's also been their biggest complaint about Obama."
King Abdullah II isn't the only autocrat the Fox crew has been praising. Some on the network have lauded the supposed strength and decisiveness of Russian President Vladimir Putin while other conservatives, such as Rep. Louie Gohmert (R-Texas), have openly praised Egyptian strongman Abdel Fattah el-Sisi.
"Apparently, you love freedom. You just wish it was being administered in this country by a dictator," Stewart concluded. "It's kind of ironic because if President Obama started acting more like any of the guys whose leadership you admire, I'm pretty sure I know the first place he'd shut down."
Check out the clip above for more.
Before You Go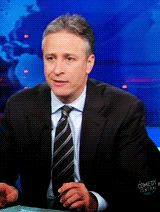 Jon Stewart GIFs
Popular in the Community