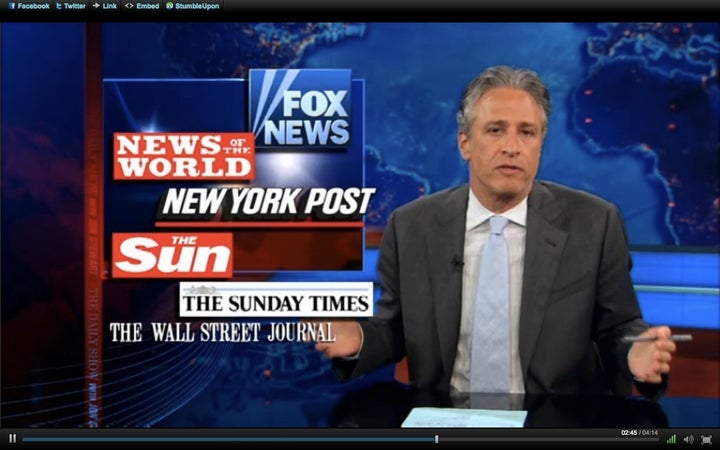 Jon Stewart caught up to Stephen Colbert's coverage of the Rupert Murdoch scandal Tuesday night, running over 'The News Of The World''s myriad offenses but focusing specifically on how Murdoch's other media properties are handling the story.
As he does best, Stewart produced a slew of clips to show Fox News' dismissal of the Murdoch scandal. Like Colbert, the soundbite that stuck out the most came from Bob Dilenschneider who suggested that the media stop 'piling on' the story. Another anchor made an awkward comparison, saying it was the biggest 'pile on' he'd seen since at a Rugby match.
"I thought you were going to say, 'The biggest case of piling on since Common read a poem at the White House,'" Stewart said, referencing the network's outrage expressed at the rapper's appearance there earlier this year.
As a point of comparison to their lack of Murdoch coverage, Stewart also produced a slew of clips showing how Fox handled the firing of NPR's Juan Williams after he made controversial racial remarks. Aside from covering it heavily and accusing liberal networks of playing the story down, one Fox News pundit actually tried to link NPR to a jihadist inquisition. Stewart couldn't believe the audacity:
"Is NPR 'an agent of a Jihadist inquisition'? I'm going to say yes, because why else would you bring it up?" Stewart joked.
If the Williams coverage is what Fox considers a "reasonably portioned response," how could they convince other networks that covering this international bribery and hacking scandal currently consuming the British establishment is a waste time? Stewart doesn't think that's what they're after though. He knows that Fox News and other Murdoch properties like The New York Post are "just jealous" because they cover scandals like no one else and now they have to sit on their hands.
Calling all HuffPost superfans!
Sign up for membership to become a founding member and help shape HuffPost's next chapter