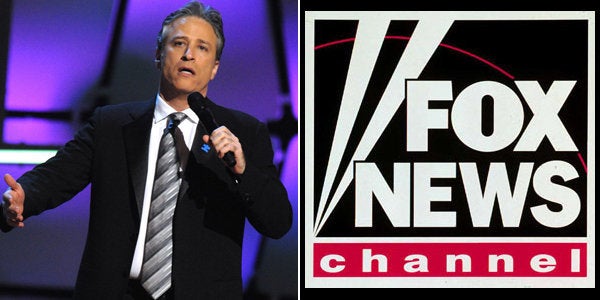 From the Washington Post's Howard Kurtz:
DENVER, Aug. 25 -- Jon Stewart ripped the cable news networks Monday as a "brutish, slow-witted beast" and castigated Fox News as "an appendage of the Republican Party."

Wearing a gray T-shirt and a healthy stubble, the "Daily Show" host told reporters that Fox's fair-and-balanced slogan is "a (expletive) you to people with brains" and that only "Fox News Sunday" host Chris Wallace "saves that network from slapping on a bumper sticker . . . Barack Obama could cure cancer and they'd figure out a way to frame it as an economic disaster."

"I'm stunned to see Karl Rove on a news network as an analyst," he said of the Bush White House aide-turned Fox commentator.

A Fox News spokesman replied that "Jon's clearly out of touch," citing a Pew study showing the network has the most balanced audience in cable news, 39 percent Repubicans and 33 percent Democrats. "But being out of touch with mainstream America is nothing new to Jon as evidenced by the crash and burn ratings of this year's Oscars telecast."
Keep reading here (scroll down midway through page)
Calling all HuffPost superfans!
Sign up for membership to become a founding member and help shape HuffPost's next chapter