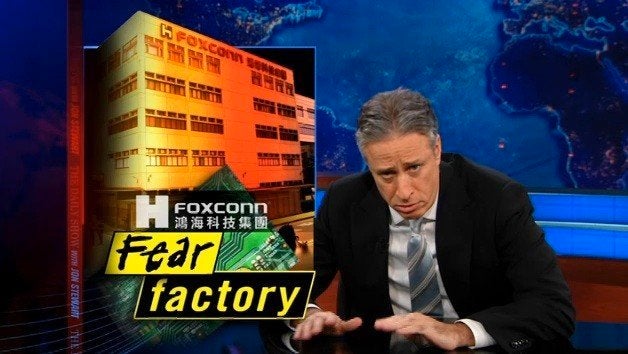 In the beginning of the segment, Stewart claims to be in favor of Foxconn, citing its amenities, which include hospitals, a fire station and restaurants.
"I get it," Stewart says, "by creating a convenient ecosystem they draw in workers and save money."
But after seeing clips from a June 1, 2010 CNN report, in which the harsh realities of life at Foxconn are revealed, Stewart quickly changes his tune. According to the segment, Foxconn employees work up to 35 hours at a stretch for $.31 an hour. If they try to form a union they could get 12 years in prison, which Stewart points out wouldn't be much of a difference from life at the factory where workers live in 8-person dormitories.
"This is an abomination and yet I am complicit," admitted Stewart, who goes on to say he must abandon his gadgets
Stewart finds it more difficult than he thought to rid himself of his devices. One gadget in particular isn't ready to let him unplug, and unfortunately for Stewart, this gadget talks back.
"I'm in your pants pocket working on giving you testicular cancer," says Stewart's Siri, the voice-activated personal assistant feature in Apple's iPhone 4S.
Siri informs Stewart that were Foxconn to implement humane conditions, his iPod would cost 23 percent more.
Stewart is aghast: "Wow! I would expect if we were working people to death, we'd be getting like 30 to 35 percent savings," he joked.
Foxconn is one of the largest employers in mainland China, with over 1 million employees who make everything from Xboxs to iPads. As Stewart says, "If it starts with a single letter, chances are it's made in China."
Popular in the Community