Jon Stewart didn't really have a joke at the end of his rant against the 67 GOP members of the House who voted against aid to victims of Hurricane Sandy, and he didn't seem to need one. As is "The Daily Show's" style, the host had so thoroughly painted the vote as incomprehensibly laughable there was nothing left to say but "we'll be right back."
The issue is certainly personal to Stewart as a native of New Jersey, but this wasn't a question of residence for the host, simply one of conscience. At one point, he queried to members on the wrong side of the vote, "What would Jesus -- or any other human being that isn't an asshole -- do?"
Watch the full clip above and then breathe a sigh of relief that Stewart and company are back from their two-week break to give voice to the country's collective exasperated sigh.
Support HuffPost
The Stakes Have Never Been Higher
Related
Before You Go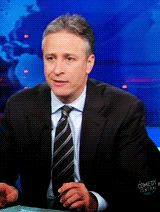 Jon Stewart GIFs
Popular in the Community