Jon Stewart spent much of Thursday's "Daily Show" on a topic he's clearly passionate over: Income inequality. Or, more specifically, the Republican party and conservative media's trend of going out of their way to demonize citizens in poverty and defend the rich.
"The left thinks it's unfair because of systemic disadvantages for the less affluent, and the right thinks it's unfair because those advantages aren't systemic enough," he said.
Over the next eight minutes, he played dozens of clips of conservative media personalities -- Bill O'Reilly, Steve Doocy, Eric Bolling, Charles Krauthammer -- who blast the poor by reflecting the Randian view that it's easier to "suck on the teat of the state" than to work for a living.
He also took aim at Republican policies that uphold the same view, such as the recently proposed bill that would extend unemployment benefits, but only at the expense of health care.
"It's like an O. Henry story!" he joked. He imagined an unemployed man telling his wife: "I stopped treating my cancer, to get you this banana!"
And the refusal to raise the minimum wage, which would seemingly help if not solve the problem, is thoroughly mocked by Fox News, such as when "Fox & Friends" had Dean Cain explain that poor people should take unattractive jobs to pay the bills.
"Actor Dean Cain is right," Stewart said. "I don't care if the auto parts plant shut down after 40 years. Get your ass off your couch, stop eating those bon-bons, and star in 'The Dog Who Saved Christmas'!"
But it was the continued defense of Wall Street criminals, or "a few bad apples" as Fox calls them, that reserved the worst of Stewart's anger.
"If it's a policy that benefits the rich, then it doesn't have to be paid for, should last forever and is good for America," Stewart summed up.
"But if it benefits the poor, we can't afford it, should end it as soon as possible and it will destroy our nation from within. Because if you give money to people who don't have it, it corrupts them. But if you give it to people who are already rich, they have a money immunity built up already. Handouts don't hurt them. Money is the root of all evil for people who don't have any already -- just like smallpox is for the Native American community," he said.
Check out the first part of the clip above, and the second below.
Before You Go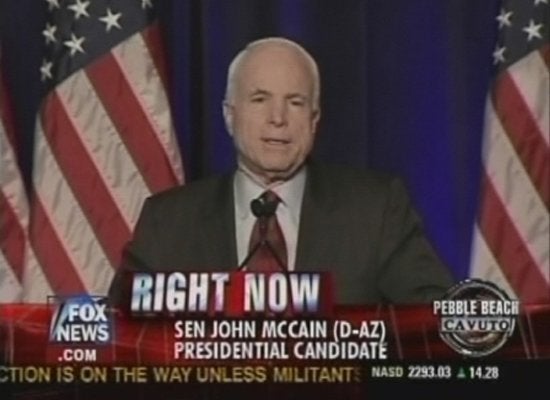 Fox News FAILS
Popular in the Community