Stewart has been at the helm of the beloved satirical news program for over 15 years. He will continue hosting the show until later this year.
According to a tweet from CBS News, Stewart told fans he had felt "restless."
Comedy Central President Michele Ganeless released the following statement:
"For the better part of the last two decades, I have had the incredible honor and privilege of working with Jon Stewart. His comedic brilliance is second to none. Jon has been at the heart of Comedy Central, championing and nurturing the best talent in the industry, in front of and behind the camera. Through his unique voice and vision, 'The Daily Show' has become a cultural touchstone for millions of fans and an unparalleled platform for political comedy that will endure for years to come. Jon will remain at the helm of 'The Daily Show' until later this year. He is a comic genius, generous with his time and talent, and will always be a part of the Comedy Central family."
Stewart joined "The Daily Show" in 1999, replacing Craig Kilborn. Covering topics such as the Iraq and Afghanistan wars, torture, CIA spying, and several presidential elections, he transformed the show into a powerful and respected voice in American media.
His hard hitting interviews -- including one with President Barack Obama in 2012 -- gained him credibility among viewers. He was even named one of America's most trusted news sources in a 2009 poll.
Stewart is also noted for his sharp criticism of cable news, particularly Fox News.
On Tuesday night's show, Stewart thanked the audience, "It's been an honor and an absolute privilege, the honor of my professional life." He called his years of hosting an "incredible opportunity," but added, "it is time for someone else to have that opportunity."
"This show doesn't deserve an even slightly restless host, and either do you," Stewart said. While he didn't announce any specific plans for what he would do after leaving "The Daily Show," Stewart said that he had "a lot of ideas in my head." "I will have dinner on a school night with my family, who I have heard from multiple sources are lovely people," Stewart joked. He said that he and Comedy Central were still working out the details of his retirement.
Video of Stewart's remarks about leaving can be seen below.
The 52-year-old comedian began his career doing stand-up. His first show was 1987 at the Bitter End in New York City.
Related
Before You Go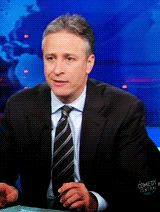 Jon Stewart GIFs
Popular in the Community