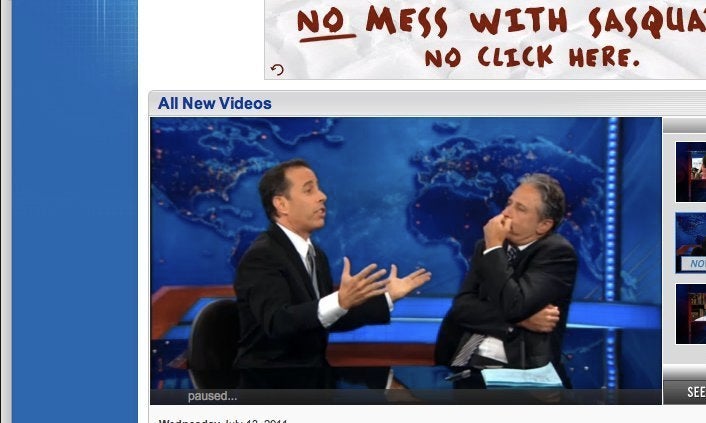 Comedians are obviously starting to take note of Michele Bachmann's husband Dr. Marcus Bachmann and his controversial gay repression therapy clinic. As Jon Stewart proved on Wednesday night's "Daily Show," it's just too easy to associate the doctor's desire to "pray the gay away" with jokes about him having a repressed sexuality. So easy, in fact, that Jerry Seinfeld had to come on the show and do a little therapy of his own to help Stewart repress his comedic desires.
At the top of the show, Stewart worked up to his bit with Seinfeld by marveling at Dr. Bachmann's behavior, from his advice that a young gay man remain celibate to his calling bi-curious teenagers "barbarians" that must be "disciplined." But it was footage of him dancing that really set Stewart off:
"That's Michele Bachmann's husband? Is he teaching people not to be gay or is he like the 'Green Mile' guy, just absorbing it all?
Stewart understood that although he thinks Bachmann "does real damage to real people" with his therapy and is "An Izod shirt away from being the gay character on 'Modern Family,'" he must repress his deep desire to comically exploit him. But it's hard, which is why Seinfeld comes in ready to join Stewart at his desk, slap him a few times and help him turn his comedic instincts off.
"You weren't born this way!" Seinfeld pleaded like a bizarro Lady Gaga.
Hear all of Seinfeld's "comedy repression therapy" in the clip below as well as Jon Stewart's segment about Marcus' ex-gay efforts below that. As you'll see, even Seinfeld can't resist making stereotypical cracks at Dr. Bachmann.
WATCH: Jerry Seinfeld's Comedy Repression Therapy
WATCH: Jon's opening segment on Marcus Bachmann
Related
Popular in the Community