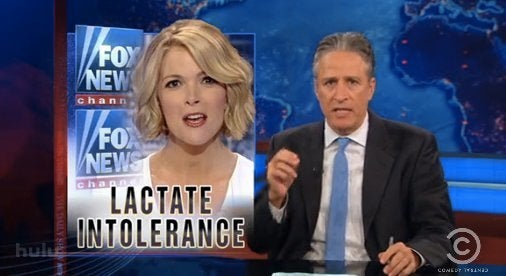 On Thursday's "Daily Show," Jon Stewart accused Megyn Kelly of hypocrisy for seeming to flip flop on the benefits of maternity leave.
Kelly's gleeful, merciless takedown of Mike Gallagher -- a radio host who criticized her for going on maternity leave after giving birth to her new daughter -- became an instant cable news classic. Of course, where others merely watch, "The Daily Show" turns to its voluminous archives, and Stewart found a few differences between what Kelly said recently and what she said in the past.
He started by marveling at the seemingly pro-government benefits stance Kelly took in her defense of maternity leave (she said the U.S. is "in the dark ages" because it does not require employers to grant paid maternity leave). Stewart's theory was that Kelly's spunky new hairdo has something to do with her view.
"When you cut your hair, it saps your conservative strength," he said. "That means Rachel Maddow is ten scissorless weeks from a Fox News contract!" Then came...the flashback clips. It seems that Kelly had previously talked about entitlement programs in a more negative fashion, and even said it made sense for women to get more time off after pregnancy than men did.
"Here's the thing about entitlements," Stewart said afterwards. "They're really only entitlements when they're something other people want. When it's something you want, they're a hallmark of a civilized society, the foundation of a great people. I just had a baby and found out maternity leave strengthens society. But since I still have a job, unemployment benefits are clearly socialism."
His only conclusion was that Kelly is suffering from "post-partum compassion."
WATCH:
(Watching outside the US? Please click here.)
Related
Popular in the Community