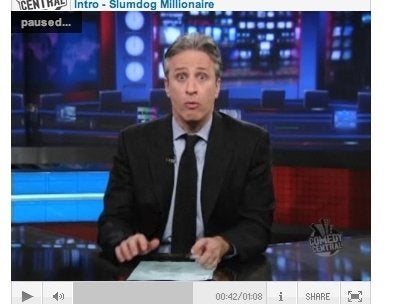 Jon Stewart hit out at the Oscars and the heavily nominated "The Curious Case of Benjamin Button" in two segments Tuesday night.
Welcoming guests to the show, he heaped praise on "Slumdog Millionaire," whose star Dev Patel was his guest, while twice pretending to fall asleep talking about "The Curious Case of Benjamin Button."
As Stewart put it, "Slumdog" was "much better than some of those other 'critically acclaimed' films I could name, like 'The Curious Case of Benjamin....' " Instead of saying the last word of the title, Stewart pretended to fall asleep at this desk, loudly snoring. Then he bolted upright, as if startled awake: "Hey, what happened to the old baby? Is the old baby OK?" Grinning broadly, he said sarcastically: "I loved that movie. It's 'Forrest Gump' meets...." And he dozed off again.
Later, right after Dev sat down, he said of the Oscars (this year being hosted by Hugh Jackman, not Stewart), "This is the kind of film that I think would be recognized by the Oscars if they were holding them, which they are not because if they were I would obviously be hosting them."
WATCH CLIP ONE WITH "BUTTON":
CLIP #2 ON THE OSCARS (a minute in after Dev sits):
Calling all HuffPost superfans!
Sign up for membership to become a founding member and help shape HuffPost's next chapter