"Hollywood's just like North Korea," Stewart said on Thursday night's "Daily Show." "Everyone's always telling you how great you are, there are billboards everywhere with your face on them and no one eats."
"You done fucked up now, buddy!" Stewart declared. "You stepped in it. 9/11 is our magic strength. It's our spinach. It reminds us we don't give in, we never give up, we don't back down."
Of course, Sony pulled the film. Not only that, the studio has also indicated it won't release the film via video-on-demand either.
"That's it?" Stewart asked. "So Kim Jong Un gets to decide what movies we make?!"
Stewart had an idea for what a Kim-approved movie might look like. Check it out in the clip above.

Related
Before You Go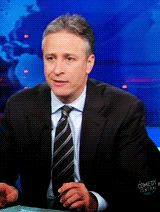 Jon Stewart GIFs
Popular in the Community