Jon Stewart doesn't think President Barack Obama is being very mature about the situation in Syria.
On his first episode of "The Daily Show With Jon Stewart" since returning from summer vacation, Stewart questioned why the president is calling for military intervention in Syria now, in particular, two years into the conflict.
"The red line!" Stewart said, referencing Obama's statement in 2012 that the U.S. would consider taking action if "we start seeing a whole bunch of chemical weapons moving around or being utilized."
"You can't use chemicals to kill your own people, you have to do it organically!" Stewart said. "America and the world want to make sure [Syrian President Bashar] Assad only uses locally-sourced free long-range ordnance."
"So given the fact that we have no idea who would have control over these chemical weapons in a failed Syria, remind us again why we have to do this?" Stewart asked, cutting to clips of pundits and politicians saying the U.S. can't afford to look weak.
"Oh right, we have to bomb Syria because we're in seventh grade. And the red line that they crossed is actually a dick-measuring ribbon."
Related
Before You Go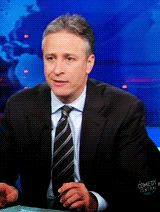 Jon Stewart GIFs
Popular in the Community