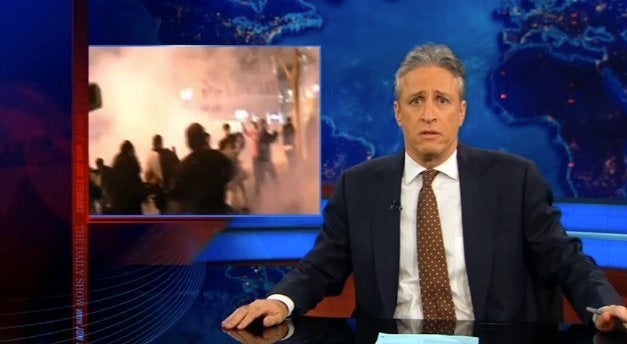 On Wednesday night, famed comedian and political satirist Jon Stewart dedicated a segment of The Daily Show to the Tuesday night protests in Oakland, targeting the Oakland Police Department.
Stewart opened the segment with a roundup of footage from various Occupy Wall Street protests, showing singing children in New York, brass bands in Philadelphia and bongo drummers in Cincinnati, before quickly cutting to footage of protesters screaming and running through tear gas in Oakland.
"What the f*ck happened in Oakland?" asked a bewildered Stewart. He then questioned the police's approach to the situation. "Seems a little heavy-handed don't you think?" he asked. "Unless -- was one of the protesters Godzilla?"
Stewart did not mention details like the tragic injury of Scott Olsen, the Iraq war veteran who suffered a fractured skull and brain swelling from blunt force trauma, allegedly from a police projectile. Rather, Stewart focused on the city's poor reaction to the Occupy Oakland protesters, overall.
Stewart is widely known for his confrontational style, made famous by incidents like his 2006 interview with Senator John McCain about his decision to appear at Jerry Falwell's Liberty University. During the segment, Stewart asked McCain, "You're not freaking out on us? Are you freaking out on us, because if you're freaking out and you're going into the crazy base world -- are you going into the crazy base world?"
Watch Jon Stewart's segment about the Oakland protest on The Daily Show in the clip below:
CORRECTION: An earlier version of this article stated that some sources have alleged that Scott Olsen was struck in the head with "an exploding tear gas canister." Investigations are still ongoing and the cause of his injuries have yet to be conclusively determined.
Related
Popular in the Community