According to Jon Stewart, Obamacare is providing some CEOs with a convenient excuse to be what they've always been: Assholes.
"Let's stop pretending that, suddenly, with this election, bosses have been transformed into reluctant assholes," Stewart said sarcastically.
Stewart noted that many business owners have always tried to find ways to curb employee benefits like pensions and health insurance: "Obamacare is just the latest excuse to wriggle out of the social contract," he said.
Watch the Jon Stewart rip into Papa John's and other "reluctant assholes" above.
Correction: Due to a transcription error, a previous version of this post misrepresented a quote by Jon Stewart as saying "rig a lot of the social contract" rather than "wriggle out of the social contract."
Related
Before You Go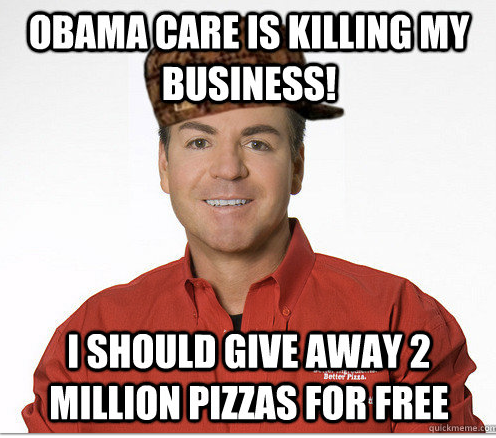 Papa John Meme
Popular in the Community