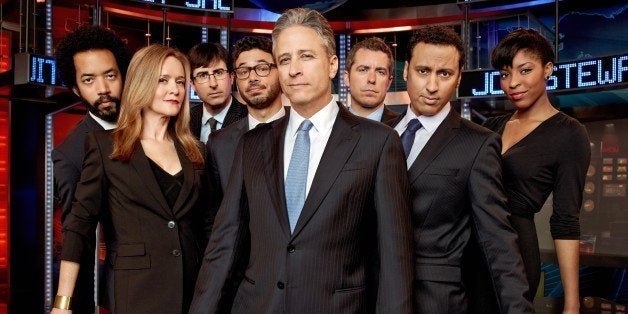 On Feb. 10, Jon Stewart announced that he would be retiring from "The Daily Show" after more than 15 years. It's hard to imagine the television late-night landscape without Stewart's voice and biting humor, and he will be sorely missed. But when Comedy Central looks to replace him, we hope they hire a woman.
There are exactly ZERO women hosting late-night TV shows right now. Despite the significant amount of recent late-night turnover -- James Corden is succeeding Craig Ferguson, Stephen Colbert's exit to take over for David Letterman made way for Larry Wilmore, Seth Meyers took over for Jimmy Fallon, and Jimmy Fallon replaced Jay Leno -- not one woman has been included in the shuffle. It looks as though NBC will actually air a sitcom about a woman in late-night before they hire a woman for late-night programming.
This egregious gender gap has nothing to do with a lack of talented women out there. (Jessica Williams! Samantha Bee! Kristen Schaal! Aisha Tyler! Lizz Winstead! Amy Poehler! Tina Fey! Sarah Silverman! Ellen Degeneres! Mindy Kaling! Kristen Wiig! The list goes on... and on... and on.) I've lost count of the number "___ People Who Could Replace ____ Who Aren't White Men" lists that have been published over the last few years, so clearly there are plenty of awesome potential choices.
So, Comedy Central, why wouldn't you hire a woman? We already know that female comedians can bring in viewers just as well as male ones. Amy Schumer's show, "Inside Amy Schumer," is killing it when it comes to ratings, bringing in 2 million viewers in the 18-34 demographic, besting "Tosh.0," which airs directly before it. Poehler's show "Parks and Recreation," is in the middle of its 7th and final season, and Fey's "30 Rock" also aired for seven seasons. Plus, the potential female candidates for Stewart's job are really f**king funny.
The best comedy pulls from true experience, finding the hilarity in our inane, messy, f**ked up lives. And if every late-night show is crafted around the experiences of a man -- and 99 percent of the time, a white man -- we are losing out on a whole lot of fabulous material.
Tina Fey explained her tongue-in-cheek theory about how women are going to finally break through in late night TV to Seth Meyers in May. "A lot of times these hosts get their jobs when they're like 35 or 40, and they keep them until they're 65," she said. "So I was like, if you're a lady, what do you wear? Because if you go in like with a cocktail dress, and then you're 45, you're 50... and there's going to come a day when you go, 'I don't got it! Bring me the jacket!' That is why I think Ellen [DeGeneres] is going to be the first person to break through, because she's already wearing jackets!"
We say, bring on the ladies in jackets ASAP.
Watch Jason Jones weigh in on who should replace Jon Stewart:
Calling all HuffPost superfans!
Sign up for membership to become a founding member and help shape HuffPost's next chapter