Election Day is here, and the Republicans are poised to win control of the U.S. Senate. For voters planning to head to the polls on Tuesday, "Daily Show" host Jon Stewart looked at what he called the GOP's "closing arguments."
On Monday night, Stewart played a series of clips from Republican campaigns that were focused on terrorism and Ebola.
"I thought that was a very powerful and cogent essayistic argument," Stewart said. "Move over 'hope and change' and welcome 'vote for us or get beheaded while pooping blood!'"
As Stewart learned, the Republicans aren't just getting help from ads filled with fear. They're also moving forward with voter ID laws that critics say make it more difficult for young, minority and female voters to cast their ballots. Of course, these Americans traditionally vote for Democrats.
Check out the clip above for more.
Related
Before You Go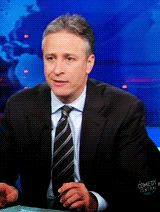 Jon Stewart GIFs
Popular in the Community