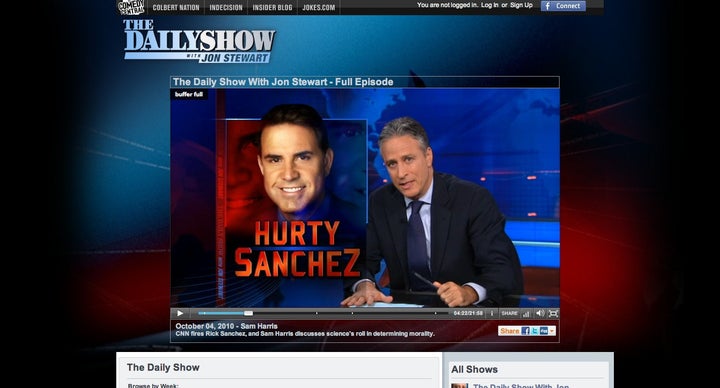 Jon Stewart addressed Rick Sanchez's comments and firing on his show Monday night. Sanchez, a former CNN anchor, was fired following statements he made on a radio show calling Stewart a "bigot."
Talking to radio host Pete Dominick, Sanchez attacked "elite, Northeast establishment liberals" who "deep down, when they look at a guy like me, they see a guy automatically who belongs in the second tier, and not the top tier.
"I think to some extent Jon Stewart and [Stephen] Colbert are the same way. I think Jon Stewart's a bigot. I think he looks at the world through, his mom, who was a school teacher, and his dad, who was a physicist or something like that. Great, I'm so happy that he grew up in a suburban middle class New Jersey home with everything you could ever imagine," he said.
Sanchez has been a favorite target of Stewart's in the past. During Rick's coverage of the Chile earthquake, Jon said on his show, "Rick Sanchez delivers the news like a guy at a party who's doing a lot of coke and traps you in a corner and explans REALLY INTENSELY how an ant is the strongest animal on earth." He went on to mock Sanchez for not being able to find Hawaii on a map.
The most common of Stewart's Sanchez jokes revolves around Rick's decision to have himself tased, which he's brought up on occasion for the past three years.
Monday night, Stewart played the radio clip and said "Omigod! Rick Sanchez knows my name!" After some gentle ribbing, Stewart came to Sanchez's defense, showing the CNN host taking on an antisemite. He went on to say "I think the guy's probably got a good heart."
Popular in the Community