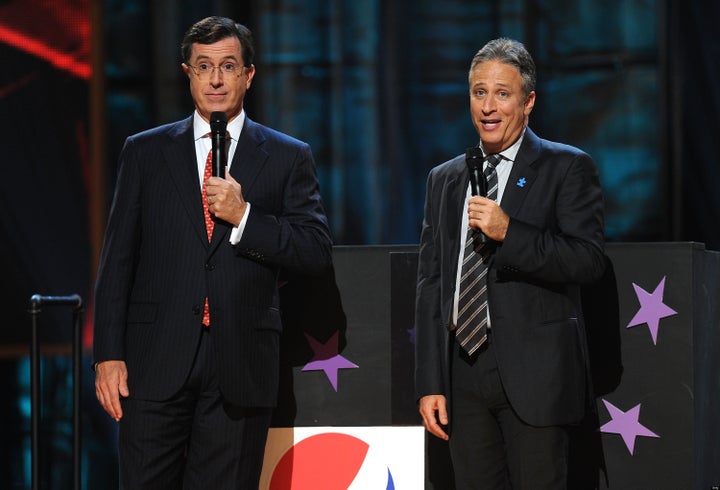 Jon Stewart broke his silence over Rick Sanchez's comments about him and Sanchez's firing from CNN Saturday night.
After remaining quiet Friday as Sanchez's controversial comments from a radio show — in which he called Stewart a "bigot" and suggested that the media is run by Jewish people — became major news, Stewart addressed the issue at Comedy Central's "Night of Too Many Stars" at New York's Beacon Theater.
According to The Hollywood Reporter, Stewart made at least two references to the situation while hosting the event, which was a fundraiser for autism research.
"If you went on radio and said the Jews control the media...you may want to hold on to your money," he said, according to THR's Georg Szalai. Later, he joked, "All he has to do is apologize to us, and we'll hire him back."
Later in the show, David Letterman made a surprise appearance and joked that he was late because he was "helping Rick Sanchez clean out his office," according to GossipCop.
Sanchez has been a particular target of Stewart's, which led the Cuban-American CNN anchor to call the "Daily Show" host a "bigot" and complain that Stewart looks at the world with a bias against "anybody who's different than [he is]." He also complained that Stewart only targeted him to create a sense of fake balance after making fun of Fox News, and said:
If I did just sit there and read the teleprompter every day, Jon Stewart would never say a word about me. He'd say I'm a good Hispanic anchor, "Way to go, you've done a good job, stay right there." ... I am a complex human being, I'm not some moron to be..."
Sanchez was fired for his comments Friday.
Stewart will, presumably, address the issue on "The Daily Show" Monday.