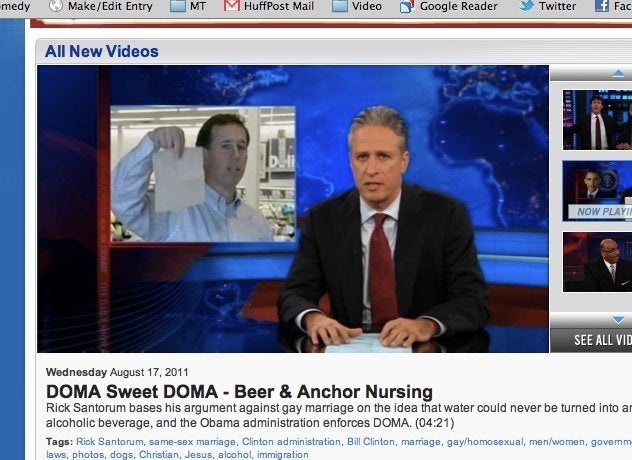 Jon Stewart took a break from his Indecision 2012 coverage to address one GOP hopeful's argument against gay marriage and our current President's failure to defend it.
It's no secret that former Pennsylvania Senator Rick Santorum is anti-gay marriage and therefore a fan of the "Defense Of Marriage Act" that Bill Clinton signed into law in 1996 saying marriages are male/female only.
Still, while promoting himself in the year before the election Santorum's been using some pretty bizarre analogies to explain his stance. Namely, that marriage is like a napkin, not a paper towel, and you can't call it a paper towel because "it is what it is." He also said the same thing about water -- that you can call it "beer" all you want but it will always be water. That one especially stuck out to Stewart:
"Yes Senator! As a Christian, you want to base your argument against gay marriage on the idea that water could never be turned into an alcoholic beverage."
Watch the full clip below to hear how not just Santorum but President Obama plays a role in gays' struggles to wed by saying the Department of Justice should stop defending DOMA while he himself enforces it.
Calling all HuffPost superfans!
Sign up for membership to become a founding member and help shape HuffPost's next chapter