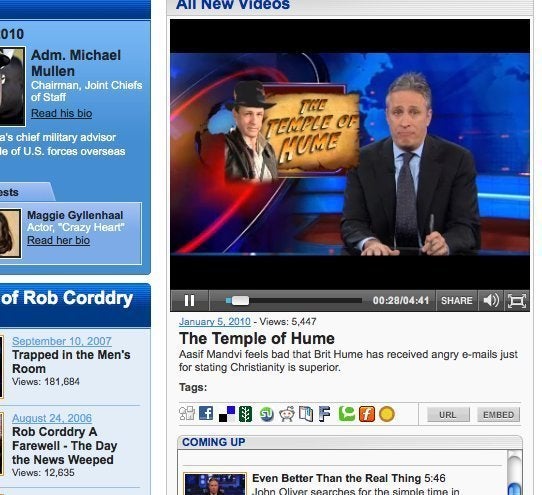 Brit Hume stepped in hot water when he offered Tiger Woods some controversial advice last Sunday: convert to Christianity because Buddhism cannot save your soul after all this infidelity. Naturally, some people were offended by Hume's disrespect towards Buddhism, and proselytizing for Christianity on a news show, and they made their feelings known through angry emails.
Hume then defended himself on The O'Reilly Factor, denying that he was proselytizing. This was the cue for Jon Stewart to do what he does best: break down public figures using their own words.
Stewart: Of course it's not proselytizing. He's not saying Tiger Woods badly needs to come to Jesus to save his soul.

Brit: I think that Jesus Christ offers something that Tiger Woods badly needs.

Stewart: A time machine?
Hume's other lament was how difficult it is these days to be a Christian in America. Muslim correspondent Aasif Manvi had only sympathy for our poor, beleaguered Hume:
It drives home how persecuted Christians are when they speak of their faith. I'm a Muslim. I take it for granted that public utterances I make extolling the superiority of my religion pass without notice or even sometimes with praise. I forget how hard it is to be Christian because it's so easy to be Muslim.
Full Episodes
Related
Popular in the Community