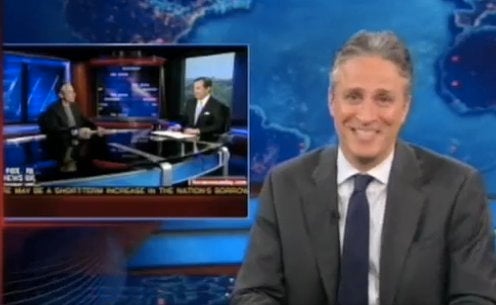 Jon Stewart opened Monday night's episode of "The Daily Show" by addressing his weekend appearance on "Fox News Sunday with Chris Wallace."
After a playful swipe at The Huffington Post's "YOU'RE INSANE" headline, Stewart went on to suggest that viewers watch the full, unedited interview online, which is the only place where one can see what Stewart termed, "the takeaway moment of the entire interview." After asking Wallace if he truly believes that Fox News is "exactly the ideological equivalent of NBC News," Wallace responded, "I think we're the counterweight. I think they have a liberal agenda and we tell the other side of the story."
Stewart went on to underline, and mock, the gravity of Wallace's point:
The other side of the story. "We don't tell both sides of the story, we tell one side...the other side, the one we perceive is never told. Because as you know, news only comes in two sides. And if the conservative side isn't being told what's being told must be liberal. Fox News isn't fair and balanced. It's balancing the system, man. Don't you get it? The system's unfair and unbalanced. To balance the system, Fox has to be the purest form of right wing resin. Because of how heavy left wing America is. Hollywood, comedians, every single news organization, the Internet, facts, history, science, it's all just left wing bullshit, man...." Is Fox unbalanced? Yeah. Seriously, their ears are nearly touching the floor. But it's only because the system is unbalanced.
During the segment, Stewart referred to Wallace as "one of the more respected individuals at Fox," while also pointing out that the anchor's statement "basically gives away the game."
WATCH:
Popular in the Community