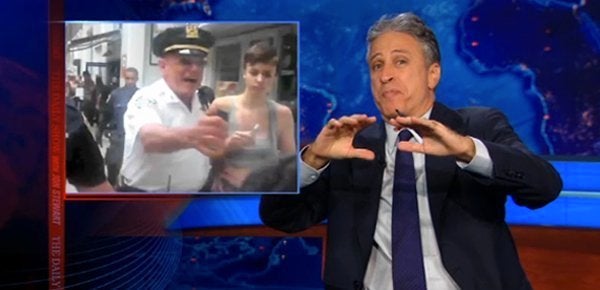 Jon Stewart took a break from his "Indecision 2012" coverage Thursday night to focus on a local problem currently grabbing the nation's attention: the ongoing NYC protest known as Occupy Wall Street.
But it wasn't the spirit of the young people organizing for democracy or even Michael Moore's drop-in that caught Stewart's attention the most. Instead it was the actions of one pepper-spray happy NYPD cop, Anthony Bologna (or, to Stewart, "Tony Baloney").
After a video emerged online of the officer indiscriminately emitting pepper spray in the faces of five female observers who were already standing behind a barricade, people demanded to know who this "human crop duster" was. After it was revealed to be Bologna, a Deputy Inspector for the NYPD, Stewart couldn't take the man's name, or his unacceptable behavior, seriously.
So, instead of chastising Bologna, Stewart did the out-of-control cop one better. He brought in ex-"Law & Order SVU" star Christopher Meloni to impersonate Bologna and his rogue, pepper-spraying ways in what's sure to be the next hit TV crime drama, "The Vigilogna."
Related
Popular in the Community