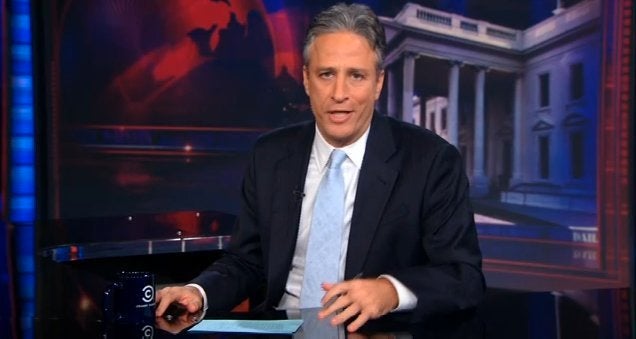 On Thursday, "The Daily Show" host Jon Stewart wrapped the night's episode with an homage to Jobs.
"He's come here a couple times to show us all how we would all communicate in the future," Stewart began. "He was nice enough to call every now and again when he thought a bit was funny or call every now and again when he thought one wasn't."
Putting the jokes aside, Stewart went on to lament the loss of Jobs.
"For him to die young, it seems so strange," said Stewart. "Other people of his magnitude, like Henry Ford and Thomas Edison, you feel like we wrung everything out of them. They were old when they died. With Steve Jobs, you really got the sense like--we're not done with you yet! [...] So what are we supposed to do now? What's next?"
He likened the feeling to that of an alien encounter, in which the alien gives humans a baffling new technology, then leaves Earth before fully explaining how to use it.
"We won't see the likes of him for quite some time," Stewart concluded.
The show's "moment of zen" sign-off clip featured Steve Jobs' famous Stanford University 2005 commencement address, during which he advises the graduating class, "Your time is limited, so don't waste it living someone else's life [...] Have the courage to follow your heart and intuition. They somehow already know what you truly want to become."
WATCH JON STEWART'S TRIBUTE TO STEVE JOBS:
Calling all HuffPost superfans!
Sign up for membership to become a founding member and help shape HuffPost's next chapter